Recent News
Nov 13, 2018
---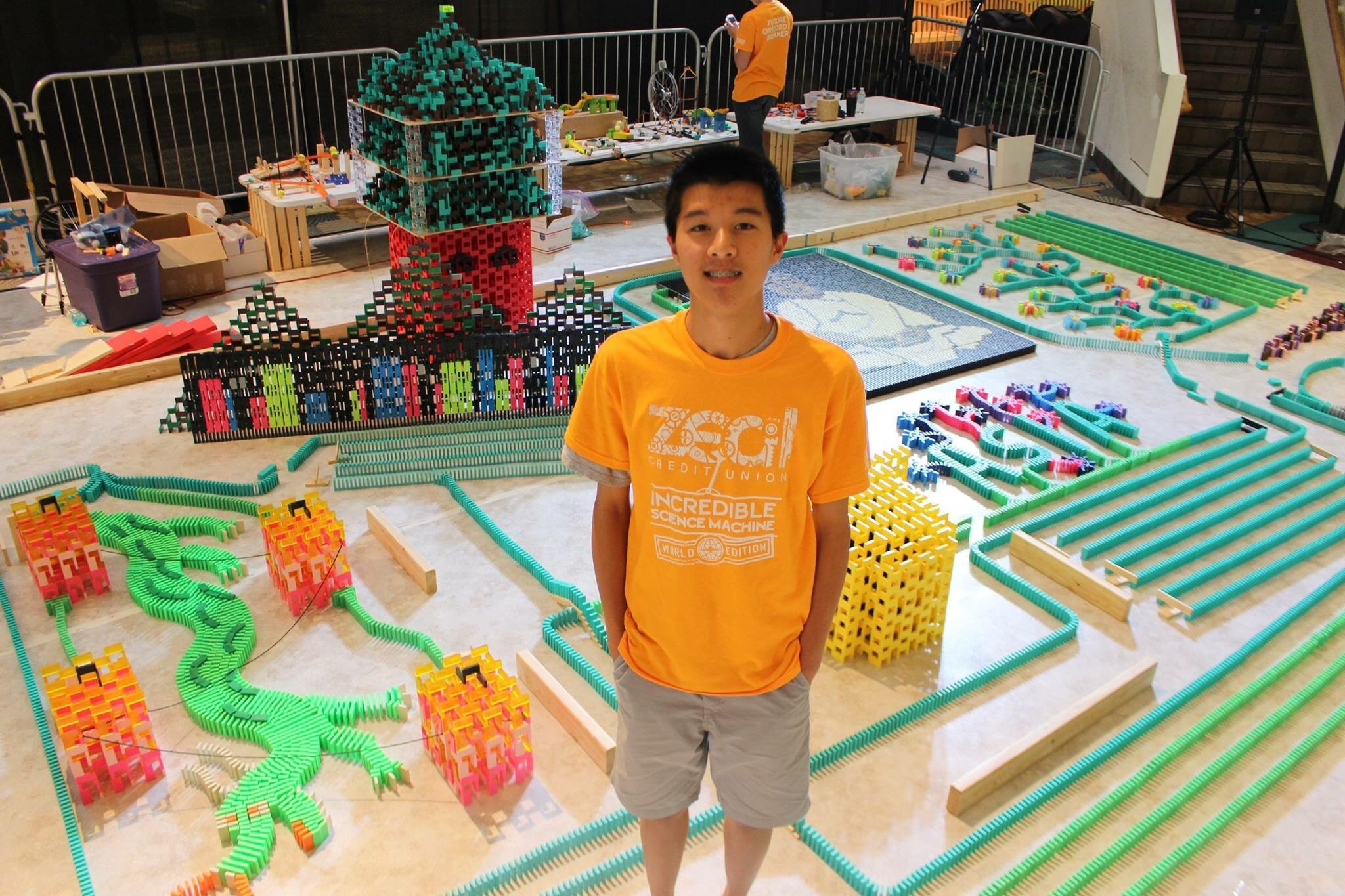 Alex Huang, second-year civil engineering student, is hoping to break the Guinness World Record for the longest chain reaction in the world.
This past June, Alex and his team created a 300-step chain reaction during their 2018 REACTICA event at the Children's Discovery Museum in San Jose. They are hoping to break the current Guinness World Record for the longest chain reaction at 412 steps during their upcoming event in June 2019.
The team spent over a week constructing and designing their chain reaction using regular household items such as dominos, cups, K'nex, wooden blocks, and hot wheels ramps. The design featured seven Rube Goldberg machines and over 15,000 dominoes. A Rube Goldberg machine is a machine designed to complete a simple task through a series of complicated steps. Some of the design elements are planned beforehand but the majority of it is created on the spot.
"The idea you have in your head for the design may seem ridiculous but if you set your mind to it and have a good team, you can build anything," said Alex.
The entire chain reaction took about 5 minutes to complete.
Alex believes that chain reaction is a way to demonstrate otherwise complex ideas such as physics in a manner that is easy for kids to understand. He hopes these events will inspire younger audiences to build chain reactions and pursue careers in STEM.
For the past three years, Alex and his team have hosted the annual chain reaction event REACTICA at the Children's Discovery Museum in San Jose. Alex started the event on his own but brought on teammates after meeting chain reaction builders like himself online.
Alex started building smaller domino chain reactions seven years ago in middle school and was inspired by others to start a YouTube channel to share this passion. Alex now has over 4,500 subscribers on his channel and hopes that in sharing videos of his chain reactions he can inspire others to build.
The current world record is held by Latvian e-commerce company Scandiweb .
Oct 3, 2018
---
Monica Fiedler-Ross graduated from Cal Poly in 2016 with a degree in civil engineering and is now an Engineer in Training (EIT) and Civil Analyst at Kimley-Horn in San Diego. During her time at Cal Poly, Monica was President of the Society of Civil Engineers and involved in the Institute of Transportation Engineers.
When did you realize that you chose the right career?
I went on a firm tour my freshman year of college to visit the Transbay Terminal project in San Francisco and it made me realize the impact I could make in communities and cities as a civil engineer. From there, I knew that this was the right career for me.
What have been some of your favorite projects you've worked on at Kimley-Horn?
Mobility Hubs – As part of the Mid-Coast Trolley project in San Diego, Kimley-Horn is working with SANDAG to propose station amenities at the 10 existing and new stations along the light-rail alignment. The objective of this project is for these stations to serve as a "mobility hub" and allow for all modes of transportation to safely access the stations. While working on this project, I have been assessing approved community plans to ensure that the recommendations align with the access planned for in the neighborhoods surrounding the stations.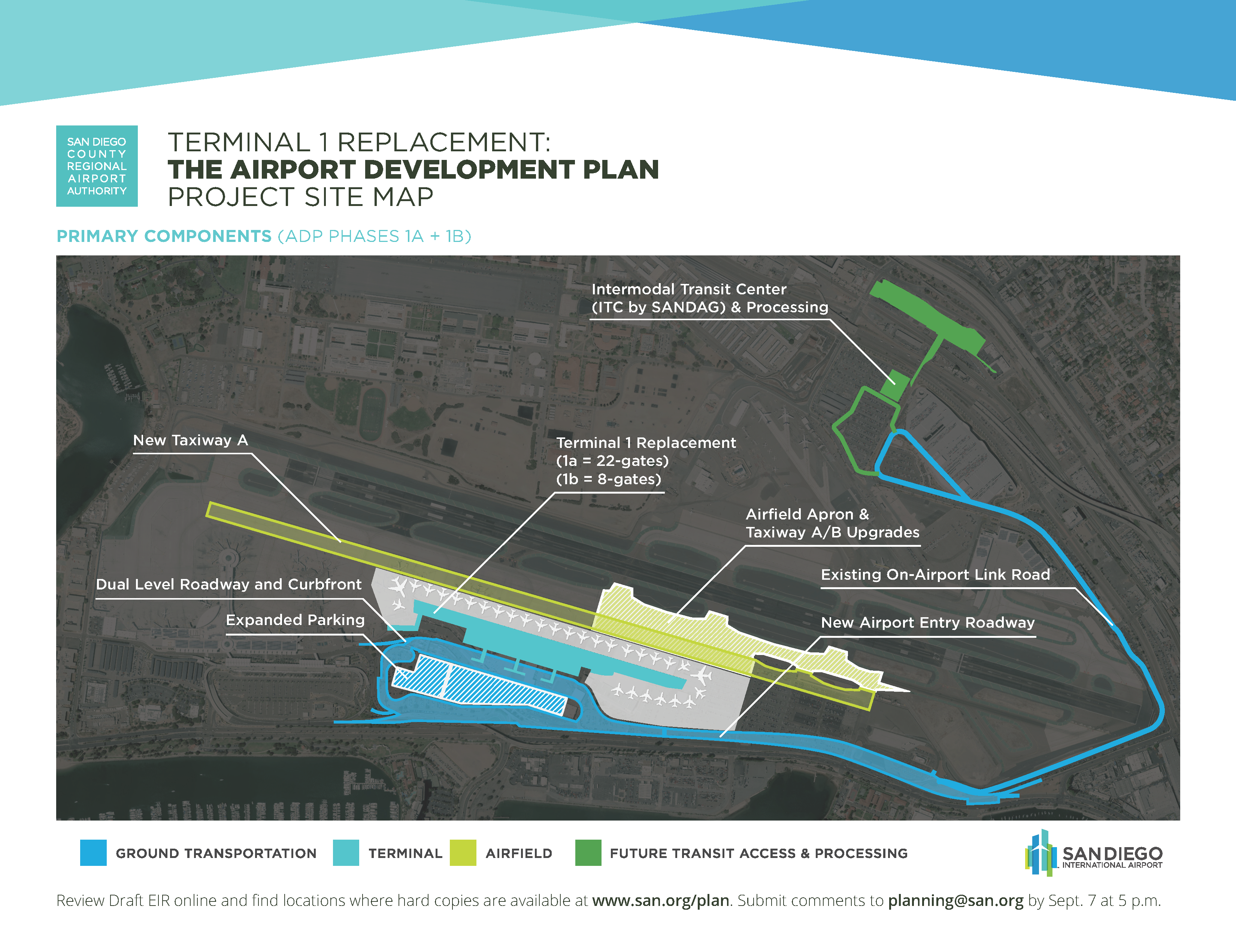 Airport Terminal 1 EIR – The Airport Development Plan (ADP) is the San Diego County Regional Airport Authority's master planning effort to determine the facilities needed at San Diego International Airport to meet the region's air travel demand through 2035.  One of the major components of the ADP is the replacement of the 50-year-old Terminal 1 with an attractive, modern and more efficient terminal. Proposed on-airport entry roadway and new terminal circulation roadways will improve traffic flow and further reduce congestion on Harbor Drive, resulting in less greenhouse gas emissions. Kimley-Horn was responsible for the traffic and circulation portion of the Environmental Impact Report (EIR) document and I worked on the analysis of the intersections, roadway, and freeway segments.
How did the civil engineering program at Cal Poly prepare you?
The hands-on learning gives you a good understanding of what you will be doing in the field as a civil engineer. Apart from the education, there are many opportunities to network and create connections with industry professionals through the program.
What advice to you have for current students?
Get involved in organizations and clubs that expose you to different fields in engineering and that give you opportunities to make connections with people you can grow in your career with.
Kimley-Horn is a platinum Partner of the CEENVE department and offers various positions for students. Openings can be viewed on the department's Jobs and Internship listing page. For more information about Kimley-Horn visit www.kimley-horn.com.
Sep 20, 2018
---
Our department was busy this summer renovating and updating our labs and classrooms for our students. We maximized space and updated computers to ensure our students and faculty have room to "Learn by Doing".
13-117 and 13-118 were swapped!
13-125B - Our new CE 204 TA office space and Mechanics Learning Center
Concrete Bins outside Building 13
13-201 - New ENVE Student project workspace
13-115 - Concrete Materials Supply room
13-120 
13-113 - New BIM Lab
13-119 - New Grad Lab
Sep 17, 2018
---
Our 2018-19 Scholarship Recipients
We are proud of all the work our students have done in our department and community. These students were selected for their respective scholarships after careful consideration of their academic achievements, extracurricular activities, and strides they've made towards their career goals. Scholarship recipients will be recognized at our Partners Dinner and scholarship banquet on December 7, 2018. For more information on department scholarships, please visit our scholarships page.
Chris Rockway Scholarship Endowment
Ed Sullivan Memorial Scholarship Endowment
Vanessa See
Vanessa is a fourth year civil engineering student and the recipient of two department scholarships. Last year, Vanessa served as President of Cal Poly's Institute of Transportation Engineers (ITE). She also served as team captain for the National Operations Center of Excellence's Transportation Technology Tournament, in which the Cal Poly SLO team placed second through their proposal for Intelligent Transportation Systems solutions for pedestrian safety in Detroit. Vanessa has held several transportation engineering internships with the San Francisco Municipal Transportation Agency (SFMTA) and DKS Associates in Oakland and Seattle. Last year, Vanessa served as President of Cal Poly's Institute of Transportation Engineers (ITE). She also served as team captain for the National Operations Center of Excellence's Transportation Technology Tournament, in which the Cal Poly SLO team placed second through their proposal for Intelligent Transportation Systems solutions for pedestrian safety in Detroit. Vanessa has held several transportation engineering internships with the San Francisco Municipal Transportation Agency (SFMTA) and DKS Associates in Oakland and Seattle.
Constant J. and Dorothy F.

Chrones

Scholarship Endowment for Environmental Engineering
Karin Finney
Karin is a third year Environmental Engineering student and member of the Society of Women Engineers and Engineers without Borders. She is part of Cal Poly's Water Energy Sustainability Training Team (WESTT) and was involved in research exploring improvement of algae strains to increase their biofuel yields. She is also a learning assistant for general chemistry courses at Cal Poly. After graduation, Karin hopes to attend grad school and pursue a career in bioremediation. 
Lam Research Engineering Scholarship for Civil Engineering
Calvin Wang
Calvin is a fourth year Civil Engineering student and is involved with Cal Poly's Institute of Transportation Engineers (ITE), Asian American Christian Fellowship (AACF), and Society of Civil Engineers (SCE). He interned for the San Francisco Transportation Agency during summer 2017 and worked on projects to help reduce traffic congestion from ongoing construction projects in the city. This past summer, Calvin interned for Balfour Beatty and worked on the Caltrans Modernization Program and helped construct the overhead contact system that will provide electricity for the Caltrain system. After graduation, Calvin hopes to pursue a career in civil engineering, urban planning, and economics. Calvin hopes that through his career, he can help find solutions to societal issues like homelessness, traffic congestion and water scarcity. 
Cord Meier Memorial Civil Engineering Scholarship
Anna Johnson
Anna Johnson is a third year civil engineering student. She has been on committees for Society of Women Engineers in the past. This year she is the Conference Coordinator officer for Society of Civil Engineers. Anna also competed at the Pacific Northwest Conference on the Design Build team this past year, and plans on competing this upcoming year when Cal Poly hosts the conference. The past two summers she has worked for NorthStar in Chico, California, a multidisciplinary civil engineering firm. In the future she would like to pursue the concentration of water resources, hopefully working in the Sacramento/Northern California area.
Clark Construction Engineering Scholarship
Daniela Vazquez
Daniela Vazquez is a fourth year civil engineering student and member of Cal Poly's Institute of Transportation Engineers (ITE) and the Ethical Eating Club on campus. She interned this summer at BKF Engineers as an Engineering Assistant and got hands-on experience with transportation engineering and land development. She currently works for the San Luis Obispo County Air Pollution Control District as a Clean Air Ambassador and translator. 
After graduation, she plans on working as a civil engineer in the transportation field.
Mary and Dale Strunk Scholarship Endowment for Civil and Environmental

Engineering
Brianna Edwards
Brianna is a second year civil engineering Honors student. She on the events committee for the Society of Civil Engineers and helped coordinate the winter retreat and the Pacific Southwest Conference. Brianna was accepted into the University Singers and has performed in two concerts. During her first quarter at Cal Poly, she participated in the Emerging Leadership Series. 
Chevron Scholarship for Civil Engineering
Jordan Wong
Jordan is a third year civil engineering student and is part of the Society of Civil Engineering (SCE) Concrete Canoe Team. He was part of Engineers without Borders Malawi maize mill project. Jordan has worked as a drafter for Alan Mok Engineering, a land development engineering firm based in Fresno. After graduation, Jordan hopes to work as a geotechnical or transportation engineer. 
Clark Construction Engineering Scholarship
Alyssa Swanson
Alyssa is a fourth year civil engineering student and members of both the Cal Poly Rainworks and Institute of Transportation Engineers clubs. During Fall 2017, she served as a Master Plan Design Captain for the EPA Campus Rainworks Challenge through the Rainworks club. She has interned for the Department of Water Resources, the City of San Luis Obispo Public Works Department, and Kimley-Horn and Associates. After graduation, she plans to pursue a career in transportation and has accepted an offer to join Kimley-Horn fulltime as part of their transportation team. 
Environmental Research Foundation Award Endowment
Hayley Aarsvold
Hayley is a fourth year environmental engineering student and has participated in the WERC engineering design competition for the past two years. During her first year on WERC, her team developed a water treatment system to remove heavy metal ions from roof water runoff. This project won the INTEL Environmental Innovation Award. Hayley completed an internship with Lee & Ro, a civil engineering consulting firm, where she handled submittals, helped engineers complete CAD drawings, and developed a spreadsheet for handling pipe hydraulics. After graduation, she hopes to attend grad school and receive a master's degree in Atmospheric Science or Climatology. 
Martini Scholarship for Civil & Environmental Engineering
Diego Rivera
Diego is a fourth year civil engineering student and is involved in various extracurricular activities while maintaining a high GPA. Outside of school, Diego has devoted much of his time to working in the restaurant, construction, and engineering industries, gaining real-world work experience and thus far achieving his goal of funding his undergraduate education completely on his own. After graduation, Diego plans to pursue a master's degree in structural engineering at a top university to continue exploring how he can use his passion to contribute to his community and inspire others.
San Marcos Grange Civil Engineering Scholarship Endowment
Justin Saeidian
Justin is a fourth year civil engineering student and has been involved with the Structural Engineers Association (SEAOC). This club has given him opportunities to network with industry professionals. Justin hopes to complete a Master's degree in Civil and Environmental Engineering and pursue a career in land development.
Adele Alessio Scholarship Endowment Fund for Civil Engineering
Alex Deatherage
Alex is a third year civil engineering student and member of the Marksmanship club and the Society of Civil Engineers. He was a Lab Assistant for the CE/ENVE department during the summer of 2018 and helped renovate the department labs. After graduation, Alex hopes to work as a structural or construction engineer.
Aug 20, 2018
---
Alumni, sponsors, industry partners, students, parents and supporters of our department,
What a banner year! This year, we welcomed assistant professor Dr. Carole Voulgaris in transportation engineering, visiting scholars Gizem Can and Xin Li, and hired 10 new adjunct faculty members. Two new assistant professors will be starting in the fall quarter: Dr. Hani Alzraiee in the area of construction engineering and Dr. Amro El Badawy in environmental engineering.

The students this year did what they always do – shined. The student chapter of ITE (Institute of Transportation Engineers) was named the International Chapter of the Year; SCE (the student chapter of the American Society of Civil Engineering) was awarded the Robert Ridgway Award for most outstanding chapter of the year; the student chapter of the Society of Environmental Engineering won awards at the national WERC completion; our Steel Bridge Team took second place at nationals, breaking the department record in the process; and Concrete Canoe Team was named national champion for the second consecutive year.

This year we celebrated the 50th anniversary of Environmental Engineering and paid homage to Dr. Hal Cota and his tremendous impact on Cal Poly and the environmental engineering profession. In addition, Civil Engineering received its first endowment in collaboration with Construction Management to create the Granite Heavy Civil Engineering and Construction Program. The endowment covers, in perpetuity, the costs of a joint CE and CM director with funding set aside to support scholarships for women and underrepresented students in construction.

As part of a fundraising campaign to better support our students, labs and clubs, the department revamped the Industrial Partnership program and welcomed several new companies into our circle. In addition to Power Engineering and Cannon Corp. sponsored laboratories, next year we will celebrate three new company-sponsored labs by Chevron, ZFA Structural Engineers and Clark Pacific.

On behalf of our department, faculty, adjuncts and students, I would like to give a big thank you to all our Industrial Platinum Partners for 2017-18 as well as those already signed up for 2018-19: Gregg Drilling & Testing, Stantec, Traylor Bros, Langan and Webcor. As a thank you, we will host our first Partners Dinner on Friday, Dec. 7, 2018. During the dinner, we will award department scholarships and give our students the opportunity to network with our Industry Partners.

Civil and Environmental Engineering continues to produce the best and brightest ready to tackle tomorrow's engineering challenges. I wish all the students in the class of 2018 great success in the future. I want to extend a special thank you to all our alumni for their ongoing support and to the companies that continue to hire our students.

Wishing you all my very best,

Charles Chadwell
Civil and Environmental Engineering
Department Chair
Aug 20, 2018
---
Carole Voulgaris joined the department in January 2018 as an assistant professor in transportation engineering. She earned bachelor's and master's degrees in civil engineering from Brigham Young University.
She worked as a transportation engineer for three years after graduating. She then received an MBA from Notre Dame in 2012. She went back to school to pursue a doctorate in urban planning at UCLA and graduated in June 2017. Voulgaris was named "Outstanding Student of the Year" at the 2018 annual Transportation Research Board conference for her work at METRANS during her doctoral studies.
As an assistant professor, Voulgaris' focus is on public transportation, intelligent transportation systems, sustainable mobility and transportation planning. She hopes to create opportunities for interdisciplinary work with other engineering majors and hands-on experiences for students.
"Engineers can't work in a vacuum and need opportunities to work on real projects to gain experience working with external factors that happen in real life," said Carole.
Aug 20, 2018
---
The Civil and Environmental Engineering student fund comprises donations from the Industrial Partnership Program that support instructional activities for student groups such as field trips, student projects, student research, conferences and competitions.
Each year, the Civil and Environmental Engineering Student Fee Initiative Committee is charged with apportioning the funds in this account. The committee includes the department chair, six CE/ENVE students, and two CE/ENVE faculty members.
The CE/ENVE Industrial Partnership Program (IPP) was started in January 2018 to expand employment opportunities for civil and environmental engineering students and increased funding for extracurricular student activities.
Since the start of the program, IPP has welcomed 11 platinum sponsors, two gold sponsors, and 16 silver and bronze sponsors.
Aug 20, 2018
---
Even after getting rejected for a spot on Cal Poly's running teams a second consecutive year, Swarnjit Boyal left the coach's office thinking, "This isn't the last you'll hear from me."
Fueled by hard work – measured in miles -- he was heard from in a big way this summer when he was named Cal Poly's male athlete of the year.
"I'm proud for never giving up on my dream and believing in myself even if the odds were stacked against me to make the team," said Boyal, who just completed his master's degree in civil engineering with a focus on water resources.
The Yuba City resident was never even recruited to Cal Poly.
"My senior year of high school, my calculus teacher asked me what I wanted to major in, and I said engineering," Boyal recalled. "And he recommended Cal Poly to me, being that he was a math major there."
Knowing Cal Poly had a good cross country and track program, he ran hard the summer after his senior year of high school.
"It wasn't enough, though, as Coach (Mark) Conover had a strong team, and I just wasn't good enough to make it," Boyal said.
Boyal left Conover disappointed but even more determined. He ran for the Cal Poly Distance Club, where Coach Armondo Siqueiros taught him the basics of being a good runner.
Meanwhile, he continued with his engineering studies.
"I love the variety and diversity engineering gives in my life by always having something different to solve or figure out," he said. "Nothing is ever the same, and you're always constantly learning."
That desire to learn carried into his athletics. The following summer, he asked Conover what'd he'd need to do to make the team, and Conover's answer was simple:
More mileage.
So Boyal ran. And ran and ran.
Yet, that September, Conover told him he still wasn't ready.
"This crushed me," Boyal said.
The following Monday, he took his frustrations out on the trails with the club. And he was so good, Siqueiros contacted Conover. And then Conover reached out to Boyal.
"Swarnjit definitely had to pay his dues and earn a roster spot," Conover said. "But when he looked me in the eyes and said, 'Coach, I can beat the guys on your team,' I knew he had the passion, vision, and desire to do what it takes to be highly competitive at the Division 1 level."
After making the team, Boyal made sacrifices – skipping vacations, time with friends and loved ones – to dedicate to running.
"He finds pure joy in running and uses it to balance his other academic and work commitments," Conover said. "He epitomizes the 'find a way' motto, whereby one must decide how to live a life of balance while training to a maximum level."
As a result of his regiment, Conover said, Boyal did get better, culminating this year, when he was named Big West Athlete of the Week three times en route to being selected for the conference's Men's Track Athlete of the Year Award.
His cross country highlights include finishing 10th at the NCAA West Region qualifier in Seattle and leading the Mustangs to the Big West Conference championship, earning second place individually, at UC Riverside.
In track, Boyal became the Big West's first back-to-back champion for the 10,000 meters since Utah State's Toby Conley in 1995 and 1996. He moved to No. 5 in school history for the distance while coming in second place in the Elite Invitational section of the event at the Stanford Invitational, ranking No. 22 nationally.
Now that he has graduated, Boyal plans to stay in San Luis Obispo, where he works for Monsoon Consultants, a water resource and hydrology firm. And he plans to continue running, competing for HOKA ONE ONE Aggies, an Olympic development team based in San Luis Obispo.
"I can't just be doing work, work, work all day," Boyal said. "I need to balance it out. After a busy day, or if I have any stress with school, I love to just lace my shoes on, clear anything on my mind by hitting the trails and taking on the views and just releasing myself by going for a run."
Jul 2, 2018
---
Read the original story here.
Concrete is not the first material that comes to mind when designing a Frisbee. It's heavy, brittle, and your dog probably would not be as eager to fetch with it. But, a concrete Frisbee does have some value – not as a fun toy, but as a learning experience.
At the Pacific Southwest Conference this year, groups of engineers sought to defy these expectations by taking their concrete Frisbees to the air. Cal Poly – which also took first place in the concrete canoe and steel bridge competitions – won the concrete Frisbee contest with their van Gogh-themed disk.
The strong performance from Cal Poly should be no surprise, given San Luis Obispo's long history with the flying discs people have come to know and love. Fred Morrison, San Luis Obispo resident, invented the modern Frisbee in 1957. Since then, plastic has been used and later perfected for its optimal flight, weight, and comfort.
Now, in 2018, Cal Poly engineers are challenging the roots of the Frisbee by creating one made out of concrete. The concrete version does not look too different than the neon plastic discs thrown at parks across the nation in shape and size – it flies and catches just as one would expect. The only difference is the time, effort, and deliberation that goes into getting a disc made out of concrete to fly in the first place.
At the Pacific Southwest Conference (or PSWC), the concrete Frisbee was just one of several engineering challenged students are tasked to overcome. While the competitions ranged from making steel bridges to concrete canoes, the concrete Frisbee competition inspired students to create a flying disc made out of concrete that not only flew through the air successfully, but also met criteria for retention, accuracy, distance, and was aesthetically pleasing.
PSWC gives engineering students the opportunity to get hands-on experience with the skills of their major. The competition aligns perfectly with Cal Poly's Learn by Doing philosophy – each of the events are practical demonstrations of engineering approaches. Rebecca Cooter, a third year civil engineering student at Cal Poly, was one of the members of the concrete Frisbee team who traveled to Arizona for the 2018 PSWC.
"It relates to civil engineering because reinforcing concrete is very important," said Cooter. "We do a lot of mix designs for projects, and it is a practical application of that. It is cool to say, 'We built this, we made the design.'"
The design was not the only creative aspect of the project. The concrete Frisbee team had the chance to express themselves through the aesthetic criteria of the competition -- something that they were more than happy to do. 
"After letting it cure for about a week, we had to paint it," Cooter said. "We chose the theme 'van Gogh,' because that was the same as the concrete canoe, and we thought it would be fun to match them."
The concrete canoe team recently won the national championship in San Diego.
After everything was finalized, the concrete Frisbee team took their design to the competition in Arizona. There, the teams gathered in a grass field to put their Frisbees on display. When it came to the throws, there were two different rounds, one for accuracy, and one for distance.
"For distance, we had 40 or so people from Cal Poly line up to make sure that if the Frisbee actually went past the grass that someone would catch it," said Cooter. "Unfortunately, it ended up slamming directly into a tree and falling. It got a little chip out of it, but it's still in one piece."
The experience for the concrete Frisbee team was a pleasant one in the end, according to Cooter.
"We were all pretty experienced with concrete, so it was really relaxed," she said. "The team was really cool. Overall, it was a ton of fun."
Jun 27, 2018
---
Pages
Related Content