Recent News
Oct 28, 2019
---
Anurag Pande earned his Bachelor of Technology degree in civil engineering from the Indian Institute of Technology, Bombay in 2002. The summer after his sophomore year, Pande did research for a professor, working in travel demand forecasting while also doing surveys and data analysis. The research eventually became his senior project, and the experience got him interested in applying for graduate school.  
 University of Central Florida offered Pande a fellowship in 2002, where he earned his doctorate in transportation engineering. While his work as an intern in graduate school was "good," Pande said it didn't excite him. After speaking with his advisor who encouraged Pande to consider a career in academia, he finished his degree and worked for a couple of years as a post-doctorate research associate.  
In 2008, Pande came to teach in the civil and environmental engineering department at Cal Poly, and the professor says he's loved his job ever since.  
"You know, that's the great thing about a faculty position, because you pretty much never have to do work that you don't like to do, right?" Pande said. "You always get to teach your classes that you love to teach, and in terms of research, it's always the work that [you] want to do." 
For Pande, producing "good work with good students" has been a highlight of his time at the university.  
"What I've found is [my students] have really valuable feedback and I've been able to work on my teaching," Pande said. "Not only have I found I've become a more effective teacher by looking at that feedback, but because I'm planning a little bit more ahead of time, I've become more efficient." 
Amongst the list of research projects on Pande's plate, two that he said he is most excited about concern the "big picture idea" of looking at before-and-after situations in a different light. Pande said a naïve approach focuses strictly on outcomes before and after a change and simply compared the two.  
"That's really somewhat of a flawed idea," Pande said. "Because you don't really want to look at what happened before versus what happened after; what you want to look at is what happened after versus what would have happened had you not applied that change." 
Alongside other researchers, Pande said he's looking at the impact of Uber and Lyft and what the total vehicle miles travelled (VMT) would be in San Luis Obispo had those ridesharing companies not been in town.  
One thing that Pande said he missed as a young engineering student was "learning the ability to focus" and understanding the value of learning how to learn.  
"I think the secret is that pretty much everything that you will do in your careers is going to depend on your skills to be able to learn new ideas and approaches, because things change, from what we learned in school," Pande said. "So you should absolutely try to learn what is being taught in the classroom, but not necessarily only for that content, but to gain an ability to learn new things." 
Oct 21, 2019
---
Robb Moss is a civil engineering professor at Cal Poly with specialties in geotechnical engineering. In July 2019, Moss's "2nd Edition of Applied Civil Engineering Risk Analysis" was published by Springer.  
"This is a senior/grad-level text that introduces students to probability of failure analysis for components and/or systems, and other conceptual and mathematical tools to help solve engineering problems and to quantify the risk  These concepts can be applied to a wide range of engineering problems in both Civil and Environmental Engineering.  The texts uses many examples to demonstrate the utility of quantifying uncertainty and propagating that uncertainty through any engineering problem.  Solutions are provided analytically as well as computationally using MatLab and R," Moss wrote. 
Moss earned a bachelor's degree in civil engineering from North Carolina State University, Raleigh in 1995. He then studied geotechnical engineering, earning a master's degree from Utah State University, Logan in 1997 and a doctorate from UC Berkeley in 2003.  
Moss started teaching at Cal Poly San Luis Obispo in January 2006 and is coming up on his 14th year as a professor.  
Oct 15, 2019
---
Rebekah Oulton graduated from Harvey Mudd College with a bachelor's degree in both general engineering and environmental policy.  
Although as an undergraduate Oulton said she imagined herself creating policies for environmental protection, her first job post-grad was in a marketing position working for Southern California Gas Company (SoCalGas) in San Luis Obispo. During her time at SoCalGas, Oulton earned her mechanical professional engineer license and eventually received a promotion that transferred her from San Luis Obispo to downtown Los Angeles.
Oct 14, 2019
---
Stefan Talke graduated from UC Berkeley with a bachelor's degree in mechanical engineering before working for a couple years in the software industry. Talke decided to return to his alma mater, wanting a better fit for his desire to get outside and do more field work. 
"It's different [in the field]. You know, these days we tend to see things behind a computer, and you miss some stuff when you're doing that," Talke said. "Literally you might miss it, but figuratively or conceptually we simplify things too much sometimes and we don't see the details that are important."  
Apr 9, 2019
---
Cal Poly civil and environmental engineering students competed with 17 schools in the American Society of Civil Engineers' Pacific Southwest Conference on April 4–6.
Congratulations to the Concrete Canoe Team for winning first place in all seven of their events, and to the Transportation and Design Build Teams for winning first place overall in their categories. Cal Poly teams placed in nine out of the seventeen team competitions, winning first place in the overall conference.
Our concrete canoe team will advance to the national championship in Florida June 6-8, 2019 and compete for their third consecutive national title. 

2019 Cal Poly PSWC Team

2019 Concrete Canoe team will advance to the national championship.

2019 GeoWall team placed second

2019 PSWC Planning Committee
Mar 28, 2019
---
These alumni spotlights are from the latest edition of Benchmark, our department newsletter.
Kevin Zucco
Executive Principal, ZFA Structural Engineers
Kevin Zucco graduated from Cal Poly in 1992 with a degree in civil engineering and concentrated in both structural and geotechnical engineering. Zucco has worked at ZFA Structural Engineers, a firm started by his father, since 1993 in the Santa Rosa, Sonoma County and San Francisco offices. ZFA Structural Engineers is involved in a diverse portfolio of projects including educational, retail, residential and historic buildings. 
As an executive principal, Zucco has worked on  a variety of projects including the retrofitting of the Napa County Historical Courthouse and a four-story fire training center in Hayward. The training center has mechanisms to create fire and smoke hazards to mimic a real fire emergency. The design features a heavy water drainage system, collapsed parking lot and a BART-like subway.
"My favorite part about these projects is that once the public gets to use these facilities, they really appreciate the work our firm does," said Zucco.
Sustainability is an important part of Zucco's work, and he believes that an effective design takes into account not just the site but also the economic impact. ZFA Structural Engineers is a platinum Partner and lab sponsor of Cal Poly Civil and Environmental Engineering. 

Jason Hsia
Design Engineer, Gregory P. Luth & Associates
Jason Hsia graduated from Cal Poly in 2017 with a bachelor and master's degree in civil engineering. He is a design engineer at Gregory P. Luth & Associates, a firm based in Santa Clara, California specializing in structural engineering.
As an undergraduate, Hsia was a pledge marshal for Chi Epsilon honor society and served on the executive board for the Cal Poly American Society of Civil Engineers. As captain of the 2016 ASCE Pacific Southwest Conference transportation competition team, Hsia led the team to propose improvements for the I-405/I-710 interchange in Los Angeles and was first among 17 entries from universities in California, Nevada, Arizona and Hawaii. 
Hsia was a student assistant for Caltrans District 5 and completed a 3-D design for a project to repave Highway 101 past Atascadero. He also designed a drainage system and rock slope protection for erosion control in San Miguel. Gregory P. Luth & Associates is a silver Partner of Cal Poly Civil and Environmental Engineering.
Jan 4, 2019
---
Over 110 students, faculty, staff, and company representatives attended the first annual CEENVE Partners Dinner on December 7, 2018 in the Advanced Technologies Lab. The event connected students with industry professionals and celebrated this year's scholarships recipients. 
The evening began with a networking hour for students, faculty and industry professionals to connect. Students sat at company-sponsored tables for dinner and were able to learn about employment opportunities within the companies.
CENG Dean Amy Fleischer was the keynote speaker for the event and spoke about the importance of making a conscious effort to create a more inclusive environment. 
At the end of the night, this year's 25 scholarship recipients were acknowledged for their accomplishments. 
We would like to give a special thank you to all those who attended and made this event so successful!
2018 Partners Dinner Sponsors:
Clark Pacific
Cannon
Langan
Traylor Bros.
Stantec
Ashley & Vance Engineering
Cornerstone Earth Group
Chevron
Webcor
Kimley-Horn
Sage Engineers
Simpson Gumpertz & Heger Inc.
Provost & Pritchard Consulting Group
Water Systems Consulting, Inc. 
Nov 13, 2018
---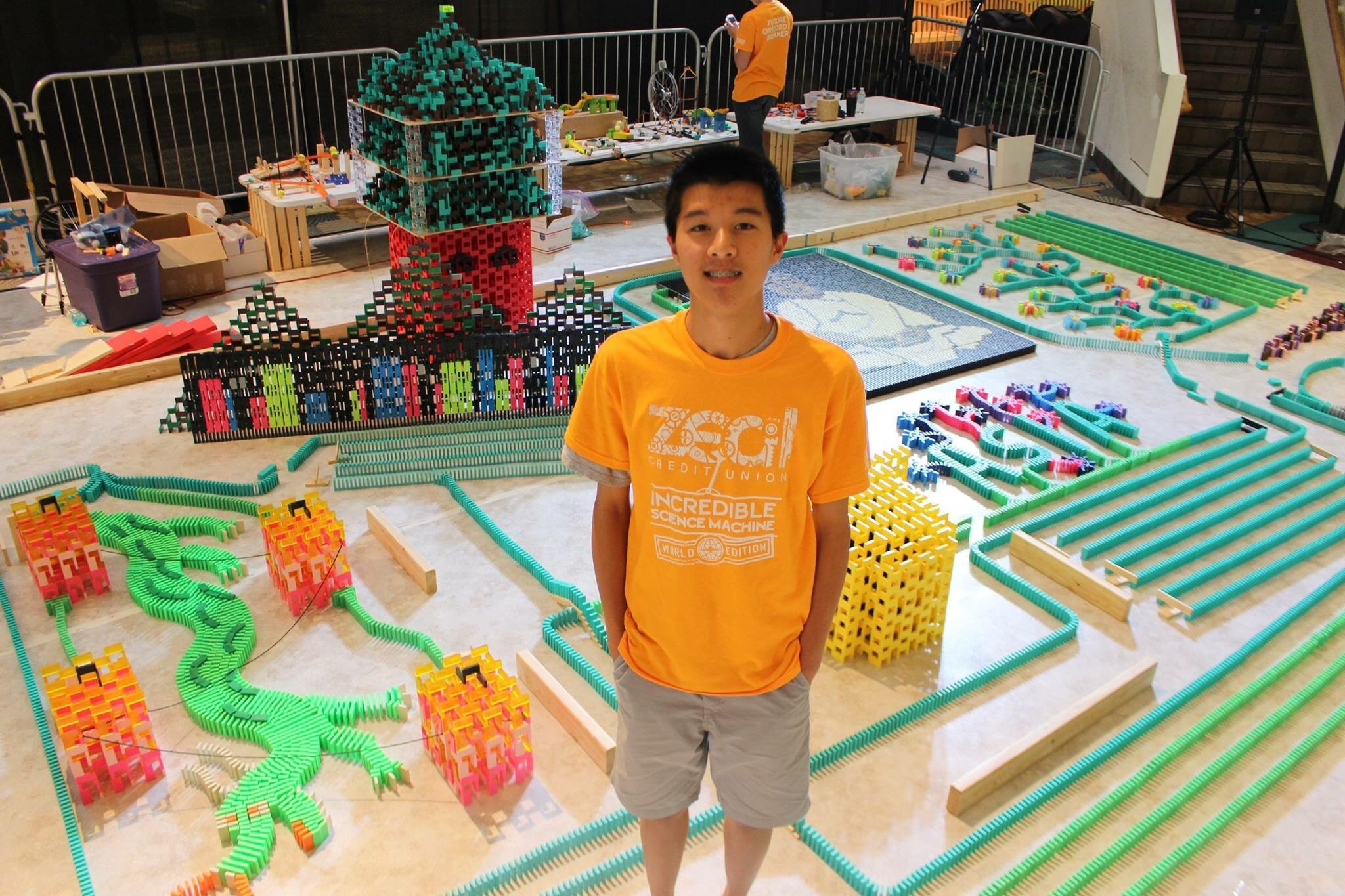 Alex Huang, second-year civil engineering student, is hoping to break the Guinness World Record for the longest chain reaction in the world.
This past June, Alex and his team created a 300-step chain reaction during their 2018 REACTICA event at the Children's Discovery Museum in San Jose. They are hoping to break the current Guinness World Record for the longest chain reaction at 412 steps during their upcoming event in June 2019.
The team spent over a week constructing and designing their chain reaction using regular household items such as dominos, cups, K'nex, wooden blocks, and hot wheels ramps. The design featured seven Rube Goldberg machines and over 15,000 dominoes. A Rube Goldberg machine is a machine designed to complete a simple task through a series of complicated steps. Some of the design elements are planned beforehand but the majority of it is created on the spot.
"The idea you have in your head for the design may seem ridiculous but if you set your mind to it and have a good team, you can build anything," said Alex.
The entire chain reaction took about 5 minutes to complete.
Alex believes that chain reaction is a way to demonstrate otherwise complex ideas such as physics in a manner that is easy for kids to understand. He hopes these events will inspire younger audiences to build chain reactions and pursue careers in STEM.
For the past three years, Alex and his team have hosted the annual chain reaction event REACTICA at the Children's Discovery Museum in San Jose. Alex started the event on his own but brought on teammates after meeting chain reaction builders like himself online.
Alex started building smaller domino chain reactions seven years ago in middle school and was inspired by others to start a YouTube channel to share this passion. Alex now has over 4,500 subscribers on his channel and hopes that in sharing videos of his chain reactions he can inspire others to build.
The current world record is held by Latvian e-commerce company Scandiweb .
Oct 3, 2018
---
Monica Fiedler-Ross graduated from Cal Poly in 2016 with a degree in civil engineering and is now an Engineer in Training (EIT) and Civil Analyst at Kimley-Horn in San Diego. During her time at Cal Poly, Monica was President of the Society of Civil Engineers and involved in the Institute of Transportation Engineers.
When did you realize that you chose the right career?
I went on a firm tour my freshman year of college to visit the Transbay Terminal project in San Francisco and it made me realize the impact I could make in communities and cities as a civil engineer. From there, I knew that this was the right career for me.
What have been some of your favorite projects you've worked on at Kimley-Horn?
Mobility Hubs – As part of the Mid-Coast Trolley project in San Diego, Kimley-Horn is working with SANDAG to propose station amenities at the 10 existing and new stations along the light-rail alignment. The objective of this project is for these stations to serve as a "mobility hub" and allow for all modes of transportation to safely access the stations. While working on this project, I have been assessing approved community plans to ensure that the recommendations align with the access planned for in the neighborhoods surrounding the stations.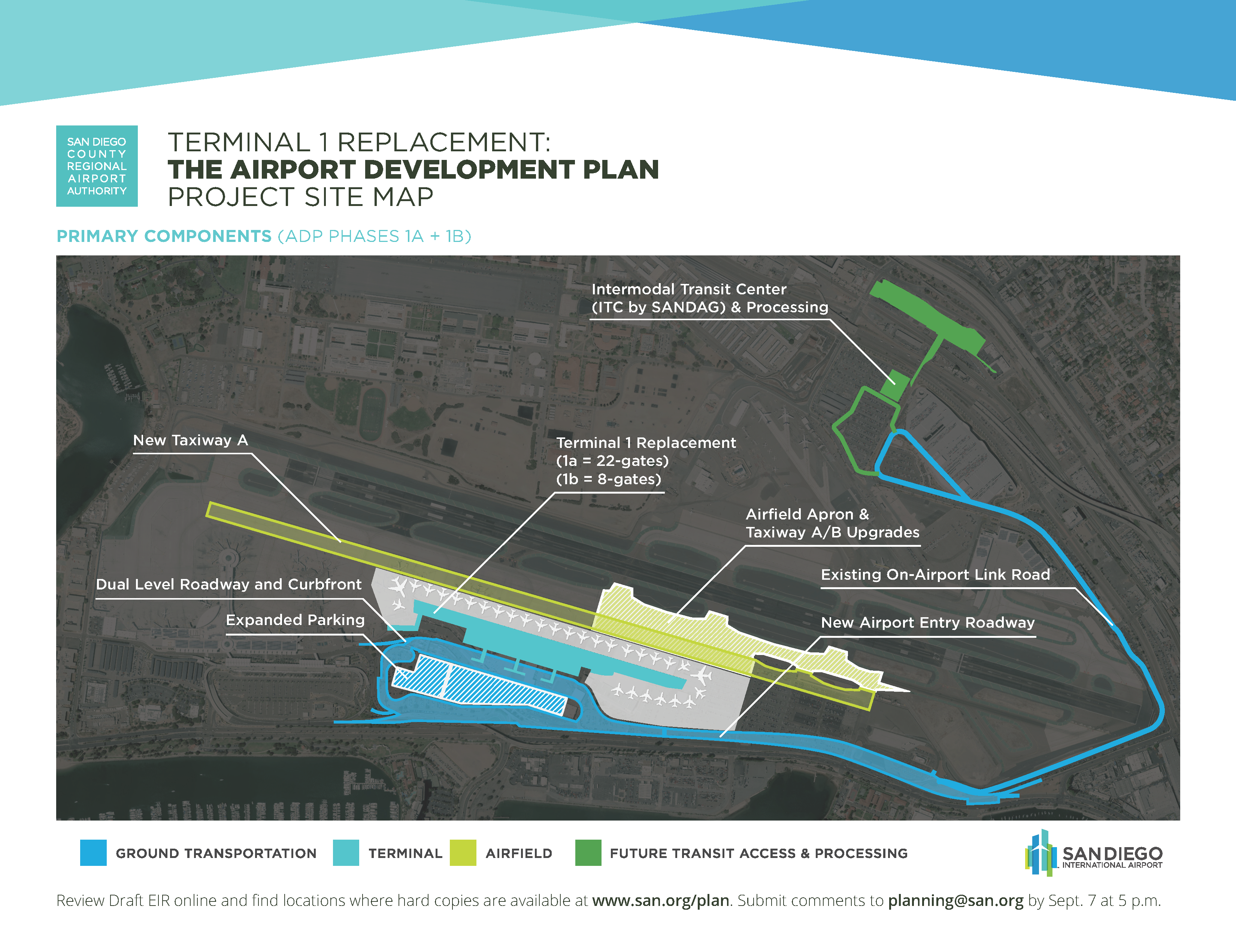 Airport Terminal 1 EIR – The Airport Development Plan (ADP) is the San Diego County Regional Airport Authority's master planning effort to determine the facilities needed at San Diego International Airport to meet the region's air travel demand through 2035.  One of the major components of the ADP is the replacement of the 50-year-old Terminal 1 with an attractive, modern and more efficient terminal. Proposed on-airport entry roadway and new terminal circulation roadways will improve traffic flow and further reduce congestion on Harbor Drive, resulting in less greenhouse gas emissions. Kimley-Horn was responsible for the traffic and circulation portion of the Environmental Impact Report (EIR) document and I worked on the analysis of the intersections, roadway, and freeway segments.
How did the civil engineering program at Cal Poly prepare you?
The hands-on learning gives you a good understanding of what you will be doing in the field as a civil engineer. Apart from the education, there are many opportunities to network and create connections with industry professionals through the program.
What advice to you have for current students?
Get involved in organizations and clubs that expose you to different fields in engineering and that give you opportunities to make connections with people you can grow in your career with.
Kimley-Horn is a platinum Partner of the CEENVE department and offers various positions for students. Openings can be viewed on the department's Jobs and Internship listing page. For more information about Kimley-Horn visit www.kimley-horn.com.
Sep 20, 2018
---
Our department was busy this summer renovating and updating our labs and classrooms for our students. We maximized space and updated computers to ensure our students and faculty have room to "Learn by Doing".
13-117 and 13-118 were swapped!
13-125B - Our new CE 204 TA office space and Mechanics Learning Center
Concrete Bins outside Building 13
13-201 - New ENVE Student project workspace
13-115 - Concrete Materials Supply room
13-120 
13-113 - New BIM Lab
13-119 - New Grad Lab
Pages
Related Content