Recent News
Sep 3, 2020
---
Dr. Long Wang received his Bachelor's degree in Port, Waterway, and Coastal Engineering from the Dalian University of Technology, China in 2014. He earned a Master's in Civil Engineering and Mechanical and Aerospace Engineering at the University of California, Davis in 2015 and 2016, respectively. Wang earned his Doctorate degree and completed his postdoctoral fellowship at the University of California, San Diego (UCSD).
Wang's research lies at the intersection of structural engineering, material science, and data analytics. Wang is interested in developing multifunctional smart materials (e.g., nanomaterials and polymers) that can be integrated with structural systems for simultaneously bearing loads, actuating, and especially monitoring structural performance.
"My research will help create a more collaborative environment for faculty and students across different backgrounds. And will create more visibility for the Civil and Environmental Engineering department," said Wang.
Wang looks forward to teaching at Cal Poly. "As a recent graduate, I like working with students and Cal Poly is a great place to continue to do so. I'm also looking forward to potential research collaborations with the faculty," Wang said.
Wang's advice for his future students is to "be active in your learning. Pursue your interests and be proactive in looking for resources. Go to peers and faculty for advice. Don't be shy."
Students that are interested in Wang's area of research are encouraged to reach out. His research works with new technologies in emerging fields of civil engineering, creating great career experience for students.
Sep 1, 2020
---
Geotechnical engineering Professor Robb Moss has recently published 3 journal papers and a textbook. His papers "Liquefied Strength and its Relationship to Effective Stress" and "Large-Scale Liquefaction and Post-Liquefaction Shake Table Testing" were published in the Journal of Geotechnical and Geoenvironmental Engineering. His paper "Prior and future earthquake effects in Valdivia, Chile" was published in Obras Y Proyectos, Edicion 27. Moss's textbook "Applied Civil Engineering Risk Analysis, 2nd Edition" discusses applied fundamental statistics, probability, reliability, and decision theory as these pertain to problems in Civil Engineering.
Moss has been a professor in the Civil and Environmental Engineering
Department at California Polytechnic State University, San Luis Obispo, California since 2005. He earned a Ph.D. from U.C. Berkeley in the field of geotechnical earthquake engineering, with minors in engineering seismology and structural reliability. His research and consulting focuses on the physics and probability of natural hazards such as; strong ground motions, seismic soil liquefaction, surface fault rupture, seismic induced landslides, debris flow, and others. His teaching includes undergraduate and graduate courses in geotechnical engineering, engineering risk analysis, geological engineering, earthquake engineering, and others.  
Aug 27, 2020
---
Cal Poly's Transportation Management Center (TMC) Simulator has helped revolutionize traffic management training in California. The Simulator is utilized as part of the TMC Academy, a unique program that combines classroom training with hands-on learning and has quickly become a statewide standard for traffic management operator training.
In 1992, Caltrans and Cal Poly hosted the first TMC operator training program. 28 years later, Cal Poly continues to host the year-round program that trains California transportation professionals to solve common traffic problems using simulated real-world incidents.
There are Caltrans Traffic Management Centers all over California where TMC operators work to manage traffic on state highways and coordinate appropriate responses to different transportation incidents. TMC operators manage congestion and determine the best solutions to help reduce traffic build-up after an incident. They are trained on a wide variety of scenarios ranging from hazardous materials to flat tires and everything in between.  
The week-long TMC Academy has participants use a TMC simulator that mimics the tools and technology of a real Traffic Management Center. This allows operators to have hands-on training while practicing new techniques learned during the course.
Cal Poly's hands-on approach has changed and improved traffic management and accident response in California. Having the only TMC simulator in the state, the TMC Academy has proven a "successful testbed for new and emerging tools for Caltrans," according to current TMC Academy Director and Cal Poly Research Analyst, Neil Hockaday.
"The program is an essential part of the development of techniques and tools in the transportation industry," Hockaday said.
Hockaday explained that all TMC operators in California eventually attend the TMC Academy and with Cal Poly's help, traffic management has been improved.
Professor Anurag Pande of Cal Poly's Civil and Environmental Engineering department is the Principal Investigator for the TMC Academy. He agrees that the academy has been beneficial for both participants and the state's transportation industry.
"We have professionals working in the real Traffic Management Centers statewide who come here and learn to handle real-world traffic management scenarios with an experience as close to the real-world as simulation can get," Pande said.
The TMC Academy has proven a successful project with the application of Cal Poly's philosophy. With technology and tools constantly changing, the TMC Academy helps TMC operators stay up to date and ensure a safe transportation system throughout the state.
"We don't tell them how to do their jobs. We train them to do their jobs better," Hockaday said.
Aug 13, 2020
---
Geotechnical engineering lecturer Nephi Derbidge was featured in the May/June issue of the American Society of Civil Engineers (ASCE) magazine. He talks about the transition of switching to a fully-online learning environment and the challenges and adjustments he's had to face.
Click on the images to view the full ASCE magazine article.
      
Jul 13, 2020
---

Congratulations to the Environmental Challenge International (ECi) team on their first place win at this year's Air and Waste Management Association Conference! The ECi Competition is similar to an environmental engineering consulting competition with a different challenge each year. This year's challenge was to create a proposal for an organic waste management program. Click the PDF below to view the team's proposal presentation. 
May 29, 2020
---
Award Descriptions
Certificate of Excellence (COE)
The Certificate of Excellence in Civil and Environmental Engineering awards are intended to honor those students who excel academically (GPA) and, perhaps more importantly, model what we look for in our most engaged students.  The students who make you look forward to teaching the classes they are in, who ask insightful questions, and who even help other students connect more meaningfully with the material. 
IAB
To students judged on efforts to prepare his or her self for a professional career in engineering including but not limited to participation in professional organizations, work experience, and community service.
Hal and Judy Cota
To academically outstanding senior-level students in the ENVE program who demonstrate an interest in community public health or industrial safety and hygiene.
Award Winners
Anna Johnson
Civil Engineering, Senior
COE Award
Ashley Green
Environmental Engineering, Senior
IAB Award
"Ashley reached out to me some months back and asked me for advice of whether attending grad school at UCI or in general was a good option. Since then, she has demonstrated great promise as a future Civil and Environmental Engineer. She has a very positive attitude and outlook on life and I greatly appreciate all of her feedback in class." - Derek Manheim, nominator
Ella Hermann
Environmental Engineering, Senior
COE Award
Jose De Jesus Chalapa Diaz
Civil Engineering, Senior
COE Award
"I have known Jose for over two years, interacting with him in classes and also through student club activities.  He is an excellent student, who is diligent, thoughtful, persistent, and goal orientated.   In addition to his studies, for the past two years, Jose has consistently been an integral part of the annual steel bridge competition held by ASCE and AISC. This year he has the responsibility of being the project manager for the team.  I have worked closely with Jose and he has shown the ability to think independently, oversee/manage various phases of analysis, design, and fabrication, and work within a team environment. Through it all he has always been upbeat and positive, which gives insight to his character.  These intellectual and leadership qualities will enable him to continue to succeed in both his graduate students as well as the career field." - Eric Kasper, nominator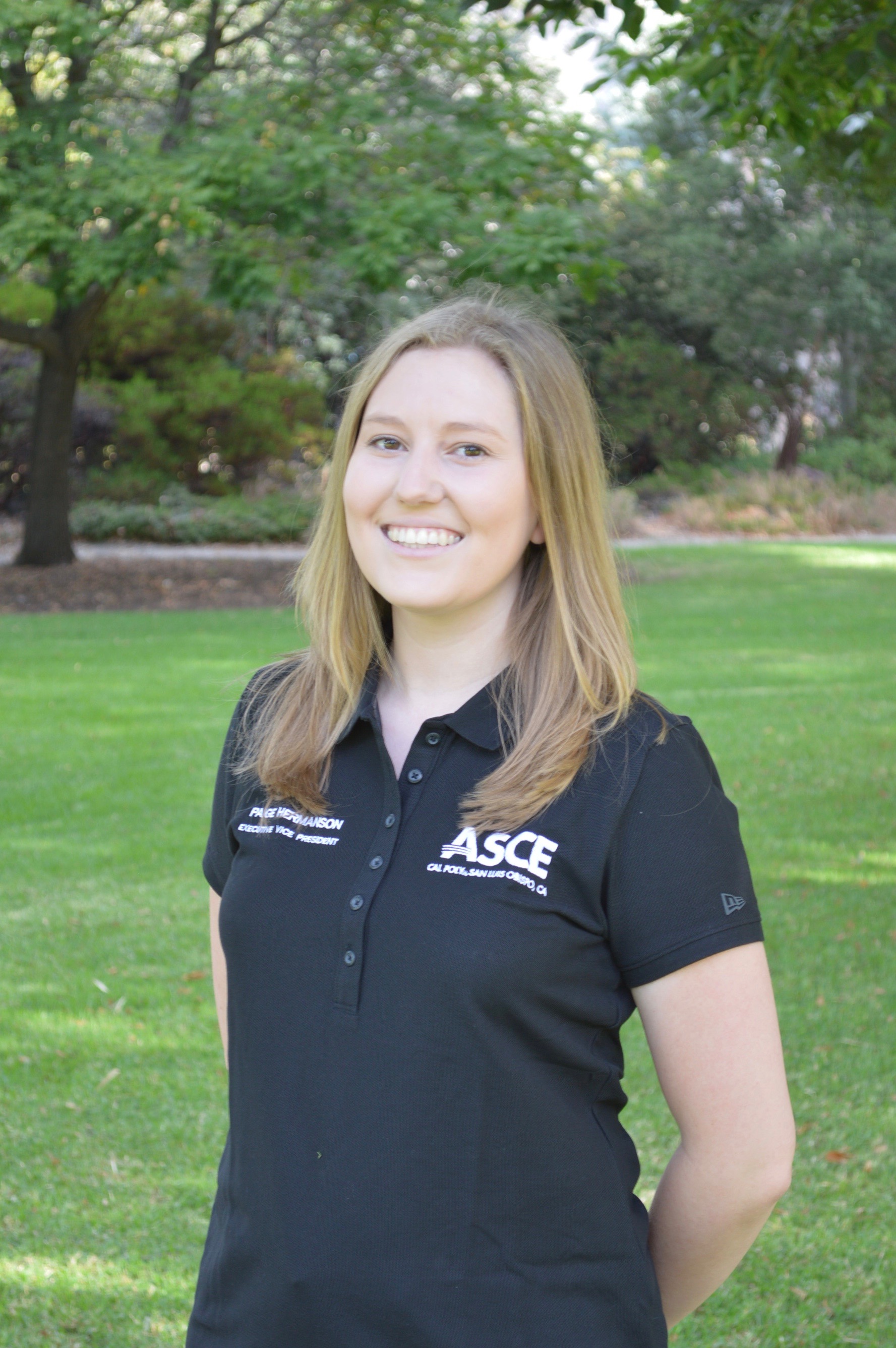 Paige Hermanson
Civil Engineering, Senior
IAB Award
Rebecca Maloney
Civil Engineering, Senior
COE Award
Ryan Anderson
Environmental Engineering, Senior
Hal Cota Award
"Ryan Anderson graduated in the blended BS/MS program this month with his thesis on simultaneous wastewater treatment and biofuel feedstock production. He helped operate 1000-liter microalgae cultivation tanks to evaluate improved microalgae strains under the varying conditions of the outdoors. The algae strains were improved by other students and research staff who applied specific evolutionary pressures over hundreds of generations. Ryan was also a Cal Poly wrestler as an undergraduate in Environmental Engineering and served as an assistant in several laboratory courses." - Tryg Lundquist, nominator
May 11, 2020
---
In April 2020, Cal Poly environmental engineering students competed and placed first and second in the WERC Environmental Design Contest. Every year, students compete in the WERC Environmental Design Contest for over $30k in cash prizes. Students are awarded for their solutions to engineering tasks proposed by industry partners and government agencies.  
Cal Poly's first place photovoltaic (PV) team and second place phycoremediation team were chosen by a judge panel of engineering professionals for demonstrating their outstanding solutions to real-world environmental issues. Environmental engineering senior Joey Velasquez also won the Outstanding Student Award. 

Cal Poly PV Team works on attaching
PCM to solar panels 
The WERC program originally began as the Waste-management Education Research Consortium and partnered with NM research universities, Sandia National Laboratory, Los Alamos National Laboratory, and Dine College, according to the WERC website. 
The PV team was tasked with improving solar efficiency. For this, the five students attempted to implement a phase changing material (PCM) that absorbs heat as it changes from a solid to a liquid phase. They tried to pull the heat from the solar panel by attaching the PCM to the back of the solar panel, which ended up increasing power output by 3 percent.  
 PV project lead and environmental engineering senior Alex McConkey said that he enjoyed opportunity to apply the skilled he'd learned to a hands-on experience. 
"[Favorite part] besides winning? It was really cool to collaborate with the group and the team," McConkey said. "It was also cool because we got to research something that has not really been done before — it's a really new, emerging technology." 
The phycoremediation team was tasked with using mircoalgae to remove metals from mining-impacted waters. The team's design was a phycoremediation (remediation through algae) system that removed over 90 percent of metals from a mine water waste solution. They immobilized living algae into a material called sodium alginate. The system was a two stage treatment train: the first step was an algal column where mine water was passed through a PVC pipe containing the algal beads, the second step was a batch reactor that also had the algal beads inside.    

Cal Poly WERC algae team
Algae team project lead and environmental engineering senior Dylan Kitao described the process as a "rollercoaster of emotions," but said that he was ultimately glad to have participated.  
"We started with eight team members and had four team members by the time we finished," Kitao said. "In addition, all of the algae we were trying kept dying! There were definitely moments where we didn't make any progress and wanted to drop the project all together. But it was so rewarding pushing through that adversity and seeing the project through." 
McConkey added that, had the competition not been virtual, class work would have been postponed while the team was away competing. With the new platform for WERC, the team was faced with virtual learning on top of completing their design, presentation and research paper for the competition.   

Students and faculty use Zoom
Conferencing to work on designs
for WERC together. 
Through the movement to online for both the competition and for school, the teams came out on top. 

 
May 1, 2020
---
As a freshman in high school, Kezia Suwandhaputra's father took her to an event for women in engineering. There, she met a woman who studied at Harvard and Massachusetts Institute of Technology (MIT), and who encouraged Suwandhaputra to pursue civil engineering.  

Suwandhaputra is a third year civil
engineering student at Cal Poly.
It hasn't always been easy pursuing civil engineering for Suwandhaputra. Being less inclined toward math and science, she struggled in the first couple of years in the major. She considered switching to city and regional planning (CRP), instead, but got through with hard work and the constant reminder that there was an end goal to reach.  
"It's been a blast," she says. "My major classes have been a really big help because now I'm actually applying the things I learned first and second year to real life applications."  
Today, she is president of Cal Poly's Institute of Transportation Engineers (ITE) chapter.  Suwandhaputra recalls going to the club fair as a freshman, trying to choose from the various engineering organizations. Ultimately, ITE was the one that stuck out to her the most.
ITE is an organization that aims to connect and educate transportation students and professionals. The Cal Poly chapter provides peers with the opportunity to learn from professionals, learn more about the field and make lasting change within the SLO community. 
Club member Emily Linn was instantly intrigued by the club her freshman year. Although it was nerve-racking at first to dive into something new, she felt at home after the first meeting she attended. Later, she attended the Student Leadership Summit (SLS) with ITE.
"Going with ITE to SLS 2019 only cemented the "family" motto the club nurtures," Linn says. "The club slowly became a place where I truly felt accepted, surrounded by people who would cheer me up when I felt down." 
Suwandhaputra reiterates the "family" dynamic of the club. She says that while a significant part of ITE is networking with professionals and professors, it's the students in the club that make ITE so special.  
"A lot of my close friends are in ITE," she says. "And we all bond over the nerdiest things; like taking public transit or biking to school or 'Oh, there's a new bike lane here.'" 
Additional to SLS, ITE hosts firm tours, has events such as Mario Kart and the SLO Transpo Mixer, and competes in competitions like the James H. Kell Student Design Competition and the Student Traffic Bowl. 
2019-2020 ITE Officers
 Vice President Zachary Caipang, Treasurer Kiera Bryant, Secretary Katherine Lee, Professional Coordinator Ashley Yao, Social Coordinator Cody Lim, Outreach Coordinator Zachary Fucini, Marketing Coordinator Bryant Lee, and Historian Megan Mannion.
Apr 24, 2020
---
Cal Poly's Society of Civil Engineers (SCE) student chapter recently received the Distinguished Chapter award for Region 9, which covers the entire state of California. This honor is awarded by the American Society of Civil Engineers (ASCE) to one outstanding student chapter in each region.  
Structural engineering professor Daniel Jansen served as faculty advisor to the club this past year.  
"It's a great group of students and they really don't need much advising," Jansen said. "They have good internal leadership and a dedicated core of officers." 
Civil engineering senior Rebecca Maloney is the president of Cal Poly SCE. Maloney got involved with the chapter as a freshman. She started in the mentorship program, moved on to join the events committee the next year and became the Vice President of Events her junior year.  

"SCE has become my community on campus.  It's where I have found people that I know will be in my life long past when we all graduate," Maloney said. "Being a part of the club has given me many opportunities to pursue leadership roles and, in turn, I attribute a lot of my personal, academic, and professional growth to these opportunities — such as starting to overcome my never ending fear of public speaking." 
Over the years, SCE has become known for planning and executing the Civil and Environmental Engineering Career Fair alongside the student Society of Environmental Engineers (SENVE) chapter.  Maloney also noted that the club has been growing their peer-mentorship program for four years now.
Jansen said that, in addition to their leadership team, all of the members (around 250 students) help the club to participate in and excel at many different things. From the peer-mentoring program, to community outreach, to Concrete Canoe, Steel Bridge, transportation and environmental engineering events at the Pacific Southwest Regional Conference, the club has been successful for years. 
"To me, this award is far more meaningful than any single event, because it recognizes the collective excellence of the student chapter and the contributions of so many," Jansen said. 
All of the clubs and organizations that Cal Poly CE/ENVE offers are amazing, Maloney said. SCE happened to be the club that she decided to stick with. 
"I have been so fortunate to be a part of such an amazing organization throughout college, and it will definitely be what I miss most once I graduate," Maloney said. 
Apr 20, 2020
---
With just a few clicks, students can accurately measure complex objects and buildings. Thanks to FARO's donation of their latest FocusS series laser scanner, students will be trained and ready to use these tools when they graduate.
Our department has prioritized advancing construction engineering curriculum as civil engineering students have shown increased interest in entering the construction field. Construction engineering professor Hani Alzraiee created the Advanced Building Information Modeling for Civil Engineering (CE 415) course to prepare students interested in the field. With the donation of the FARO® Focus Laser Scanner, Alzraiee a
ims to train CE 415 students to use the scanner and analyze the data it collects in the design and construction process. The classes focuses on managing vertical structures, BIM based quantity take-off, clash detection, and 4D modeling.
Senior Raphael Maciel was one of the first students to use the laser scanner,
"Hani got us really excited about the class. When we went  outside actually started using the scanner, it was really interesting and that got me more excited about it."
FARO's FocusS series laser scanner has a built-in 8 mega-pixel, HDR-camera that captures detailed imagery easily while providing a natural color overlay to the scan data in extreme lighting conditions. The scanner is  light weight, small and has a 4.5-hour battery runtime per charge making the FocusS Laser Scanner truly mobile for fast, secure and reliable scanning. The point cloud data captured by the scanner can be used with FARO programs or third-party programs like Autodesk.
FARO's gift has transformed and enhanced our construction engineering curriculum. With industry support, our students will receive the training they need to be successful in their careers.
"I want to thank FARO® for this gift," Alzraiee said. "I also want to thank them for the training they have provided for me in order to get up to speed with using their tool and their software. As well as the continuous support we are having and their contribution to the classroom."
Pages
Related Content