Recent News
Feb 13, 2023
---
Company Days
Company Days are an opportunity to connect directly with our Industry Partners. Attend an information session, learn about potential career paths, share your resume, and possibly land your next job or internship! Submit your resume here and sign up for one or all of our upcoming Company Days located in room 13-117! The meetings take place from 11-noon and food is provided.
Career Fair 2022 will be on October 28th, 2022 from 10am-2pm and will take place in the ATL. Our companies from the Industrial Partners Program will be joining! Please contact Sara Leader (sleader@calpoly.edu).
| COMPANY | DATE |
| --- | --- |
| Huitt Zollars | February 16, 2023 |
| MKN & Associates | February 17, 2023 |
| Cannon | February 23, 2023 |
| Power Engineering Construction Co. | February 24, 2023 |
| ZFA Structural Engineers | March 2, 2023 |
| Jacobs | March 3, 2023 |
| Water Systems Consulting | March 9, 2023 |
| Condon-Johnson | March 10, 2023 |
| LA County Public Works | TBA |
Feb 8, 2023
---
Join ASCE President, Maria Lehman, for a networking event!
Feb 8, 2023
---
Feb 8, 2023
---
Jan 20, 2022
---
The annual Civil and Environmental Engineering Career Fair took place last week on January 14 with over sixty companies in attendance. Thank you to all the companies who attended: Ashley and Vance Engineering, BuildGroup, Carlson,Barbee & Gibson, Inc Gibson,Inc, Clark Pacific, Cornerstone Earth Group, County of Santa Barbara Public Works, CR Associates, Crawford & Associates Inc, D.H Charles Engineering Inc, DMZ Builders, Drill Tech Drilling and Shoring, Encompass Consultant Group, Engineering/Remediation Resources Group, ETIC, Geo-Engineering Solutions Inc, Ghilotti Construction Company, Granite Construction, GSE Construction Company Inc, HMH Engineers, Hohbach-Lewin, Inc. Structural and Civil Engineering, Jensen Design & Survey Inc, Keller North America, Inc, Kier and Wright, Kimley-Horn, KNA Structural Engineers, KPFF Consulting Engineers, Langan, Lea & Braze Engineering, Mackay & Somps, Mark Thomas, McGuire & Hester, MKN, Moffatt & Nichol, Moran Consulting Corporation, Mott MacDonald, Murphy Structural Engineers, Nova Group Inc, NTK Construction Inc, NV5 Inc, Peoples Associates Structural Engineering, Power Engineering Construction Co, PZSE Structural Engineers, Quincy Engineering, Rail Pros, Related CA, RGH Consultants, Rockridge Geotechnical Inc, RRM Design Group, Schnabel Engineering, Shannon & Wilson, Simpson Gumpertz & Heger, Slate Geotechnical Consultants, Stacy and Witbeck, Stantec, Teichert Construction, Truebeck Construction, Tuan & Robinson Structural Engineers Inc, Water Works Engineers, Webcor, Whiting-Turner, Wood Environment and Infrastructure, Woodard & Curran, ZFA Structural Engineers. 
Jan 18, 2022
---
After a year of being fully online, Cal Poly Mustangs were ready to dive back into their first quarter fully in-person. While the transition for many was long and difficult, others thought being back on campus was both exciting and familiar.
Hanna Lazkani, a fourth-year Civil Engineering major, will be working full-time as a Civil Engineering graduate at Jacobs starting the fall of 2022. Her journey as a woman in STEM hasn't been easy, but she is grateful that the CE/ENVE program has provided her with several disciplines that offer her room to discover what interests her and what could be her potential career. 
"The difficulties lie in comparing yourself to others, seeing more men than women in your classes, or having to work harder just to prove yourself. However, that was never a deterrent for me to want to be in the field. While these things can be discouraging, the benefits are so much more valuable."-Hanna Lazkani
On the other side of the stick, is Gurtaj Khera, a second-year Civil Engineering major. As this is his first year on campus, Gurtaj describes his experience as "exciting and a little nerve-racking." His favorite part of the CE/ENVE program has been some of the labs he's participated in. He enjoys using the equipment to learn about how they are used in the engineering field today for infrastructure projects and tasks. For the next two years, Gurtaj's goal is to become involved as much as he can in the clubs and organizations he is in, and hopefully rise into a leadership role in the future.
Jan 18, 2022
---
Cal Poly was once again given the honor to host last year's Chi Epsilon's Pacific District Conference. Chi Epsilon is a national civil engineering honor society consisting of members with outstanding academic achievements. The event lasted four days in which members from all 15 Pacific District Chapters came together to connect the chapter with industry, allow students to meet with potential employers, and build relationships within the Chi Epsilon community.
Simon Montrose, the Pacific District chair who oversaw coordinating last year's conference, describes his experience as "extremely stressful, but rewarding."
"The thing that took me a while to realize was that I wasn't going to get hand-held through it. The whole spirit of the conference is that it's student-run. It's planned by the students, for the students. Overall, it was some grueling months, but well worth it" — Simon Montrose, PDC Chair.
For Simon, seeing the attendees interact and have fun, as well as the occasional appreciative comments he received from sponsors and attendees made the stress worthwhile. According to Simon, the success of the conference wouldn't have been possible without the help of the Civil and Environmental Engineering Department and Dr. Charles Chadwell.
Chi Epsilon has remained an outstanding honor society that brings attention to Cal Poly and Cal Poly students alike. Members of the organization worked diligently to create lasting memories for its members, its sponsors, and faculty and staff.
May 11, 2021
---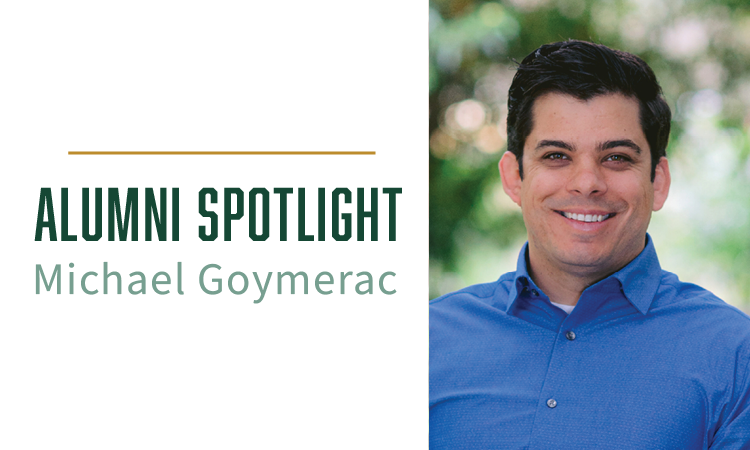 Michael Goymerac graduated from Cal Poly in 2012 with a BS in Environmental Engineering. He is currently pursuing his master's in Civil & Environmental Engineering at Cal Poly. He also works as an Associate Engineer at Water Systems Consulting (WSC) in San Luis Obispo.
Michael specializes in water distribution infrastructure, hydrology and groundwater treatment and delivery. He works with a variety of clients from local municipalities to private water companies and state institutions helping to overcome their most complex water conservation and water infrastructure needs. Michael's first design project at WSC was a 4-million-gallon tank design. Through this project, he learned from overcoming various challenges throughout the design process. The project was ultimately constructed to great success with a solid set of design documents.
Michael previously served federal, state, and local clients in the environmental remediation field where he has substantial experience in construction quality control oversight; off-haul, transportation and disposal of contaminated media; and a strong on-site safety presence. This combination of experience has allowed him to provide practical and efficient solutions particularly during implementation and construction phases.
While at Cal Poly, Michael was involved in the Society of Environmental Engineers and participated in Greek life (Phi Kappa Psi). He was also a WOW leader for two years. He appreciates his time within the Civil and Environmental Engineering department for arming him with both the technical skills as well as the soft skills necessary in a team-based environment. He advises current students to continue to develop those soft skills, as communication ends up playing a critical role in his professional work. Even years into his career, the ability to share knowledge and convey technical concepts and ideas effectively is something he still emphasizes.
May 6, 2021
---
Congratulations to our PSWC competition teams on their accomplishments at this year's virtual conference. The Pacific Southwest ASCE Student Conference is an event where teams from schools in the south-western region of the U.S. compete and pitch their presentations on various topics. After much hard work, all five of our teams placed, with Cal Poly placing third overall.
The Sustainability team, led by civil engineering sophomore Naoki Weldon, received second place. As a first-timer at the conference, Weldon shared that his experience was great. The team developed a plan to make the UCLA event center more sustainable by looking into different areas of impact, such as solid waste and carbon emissions. In the end, they came up with nine solutions to decrease environmental impact in a wide variety of ways.
Led by environmental engineering junior Lanie Carl, the Environmental Design team had a great time at the conference and didn't let the online setting stop them from enjoying the experience. Their project, the SLO Flow, developed a conceptual stormwater management design consisting of multi beneficial structural and non-structural practices for the Lincoln Heights community. These solutions resulted in better stormwater system management. The team saw their hard work pay off and ended up receiving second place in the Environmental Design competition.
The Transportation team, led by civil engineering senior Kezia Suwandhaputra placed second in their competition. They were tasked with creating a proposal and presentation to improve the Los Angeles International Airport (LAX) lot. This proposal included trip generation and distribution, design, cost and environmental impact analysis. Although the restrictions of COVID-19 altered the conference, Suwandhaputra said she loved working with the PSWC Transportation team. "I learned how to lead a team, manage my time and my teammates' time, and wing it."
The Technical Paper team finished third in their competition. The team's task was to answer a prompt about how the civil engineering profession should respond to a situation and what their ethical responsibilities were as civil engineers. At the conference, they had to do a five minute presentation followed by five minutes of questions from judges. Team captain Hannah Berenjfoorosh, a Civil Engineering senior, explained that it was nice to see the Cal Poly teams support each other at the events and banquet. Berenjfoorosh advises students in the Civil and Environmental Engineering department is to get involved with PSWC as she wishes she participated in earlier years.
The Surveying team, led by civil engineering junior Macey Ferron-Jones received third place in their competition where they constructed a topographic map of a small township in Eastern Ohio. As captain, Ferron-Jones met with the team and assigned tasks to complete with deadlines. She said she is so proud of the Surveying team and thankful for their hard work.
All of the teams worked so incredibly hard to compete at the conference and we are so proud of their achievements.
Apr 17, 2021
---
Congratulations to the Cal Poly team of environmental engineering students for placing second at the 31st annual Waste-management Education Research Consortium (WERC) Environmental Design competition. Team members Sabrina Cegielski, Angela Ceja, Page Dionne, Teresa Godoy, Sara Henkemeyer, Anmol Kaur, Dulce Rodriguez Rivera, Joshua Schipper, Gracie Wong, and team leader Julia Broman competed at the virtual competition held from April 11-14.
WERC is a nation-wide environmental design competition where students take the lead as consulting engineers. Teams are tasked with solving real-world problems, administrated by industry partners and government agencies. The competition consists of a research report, oral presentation, and bench-scale demonstrations.. 
The Cal Poly team was tasked with designing a destruction technology for per- and polyfluoroalkyl substances (PFAS), a group of emerging contaminants. PFAS are known as the 'forever chemicals' due to their resistance to break down. Their prominence in a variety of products presents a problem as they contaminate drinking water.
Cal Poly environmental engineering students developed a two-step destruction system which utilized enzymes from fungi, followed by a process called electrochemical oxidation. The system operates to safely break down the contaminants achieving EPA's drinking water health advisory of below 70 ppt. 
ENVE Team
Pages
Related Content