Recent News
May 29, 2021
---
Certificate of Excellence Recipients
The recipient of the Certificate of Excellence award is honored for having demonstrated great promise as a future leader in Civil Engineering through academic excellence, clarity of purpose, and engagement in professional membership worthy of recognition.
Ava Mattis
Environmental Engineering, 4th year
This summer, Ava will be working on water treatment and reuse through her internship with the Civil Engineering firm MKN & Associates. In the fall, she will begin a fifth year to complete her minors in Italian Studies and Sustainable Environments. 
Jacob Hamada
Civil Engineering, 3rd year
This summer Jacob will be working at Kimley-Horn as a Transportation Planning/Traffic Operations intern. In the fall, he will be entering his fourth year at Cal Poly and plans to graduate with a BS in Civil Engineering in June 2022. 
Meagan Chan
Civil Engineering, 4th year
After graduation, Meagan will begin working as a Civil Analyst for the planning and design consulting firm Kimley-Horn. She will be joining the Transit Design Team in San Jose. 
Nadime Younan
Civil Engineering, 4th year 
This summer, Nadime will be interning with Risha Engineering. She will then return to Cal Poly in the fall to pursue a Masters in Civil and Environmental Engineering.
IAB Award Reciepients
Each year, the Industrial Advisory Board (IAB) of the Department of Civil and Environmental Engineering confers this award to two outstanding Civil and Environmental Engineering students who are worthy of recognition across the totality of scholarship, professional goals, community service, work experience, and participation in professional organizations.
Tessa Gallagher 
Environmental Engineering, 4th year
This summer, Tessa will be working for the Civil Engineering firm MKN & Associates as a Civil Engineering Intern. In the fall, she will continue her studies of the intersections of civil and environmental engineering in the blended graduate program.
Claire Anovick
Civil Engineering, 4th year 
This past April, Claire became an official Engineer-In-Training (EIT) through the California Board for Professional Engineers, Land Surveyors, and GEologists. After graduating, she will begin be working for Golder Associates in Seattle, Washington in August 2021. 
Harold and Judy Cota Award
The Harold and Judy Cota Award Endowment supports senior Environmental Engineering majors who have demonstrated an interest in community public health or industrial safety and hygiene.
Julia Broman
Environmental Engineering, 4th year
Julia was the project manager for the WERC team from 2020-2021, who placed second in this year's nationwide competition. She will be taking her FE exam in June and is excited to begin her career in the environmental engineering industry. 
Andrea Sirilutporn Yau-Chan
Environmental Engineering, 4th year
This summer, Andrea will be working as a intern with the Raw Water Operations Unit at Valley Water. In the fall,  she will begin attending graduate school in the pursuit of a master's degree in Civil and Environmental Engineering. 
Ed Sullivan Memorial Scholarship
The Ed Sullivan Memorial Scholarship Endowment was established in memory of Dr. Sullivan, a faculty member in the Civil and Engineering Department. This scholarship supports junior, senior and graduate students in Civil and Environmental Engineering with an interest in Transportation Engineering.
William Andrews
Civil Engineering, 4th year
This summer, William will be interning with Fehr & Peers at their Walnut Creek office. In the fall, he will begin pursuing his master's degree in Transportation Engineering at UC Berkeley. 
Rollo & Ridley, Inc. Geotechnical Engineering Scholarship 
The Rollo & Ridley, Inc. Geotechnical Engineering Scholarship Endowment provides support to Junior or Senior students enrolled in the Civil and Environmental Engineering program with an emphasis on Geotechnical Engineering and demonstrate interest by volunteering and assisting in the geotechnical laboratory or with geotechnical research. 
Josue Garcia 
Civil Engineering, 3rd year 
This summer, Josue will continue his internship at Yeh & Associates where he manages their lab and runs a variety of geotechnical tests. Josue also served as the Events Coordinator for Cal Poly CalGeo and will be serving as President starting in the fall. 
May 12, 2021
---
Lizzie Wiley graduated from Cal Poly in 2018 with a BS in Environmental Engineering. She then went on to graduate with her master's in Civil & Environmental Engineering the next year also at Cal Poly. She currently works as an Assistant Engineer at Water Systems Consulting (WSC) in Orange County, CA.
Lizzie draws from her growing experience in water reuse to assist in the design of water and wastewater treatment plants including water reuse systems, as well as the preparation of Urban Water Management Plans, Integrated Regional Water Management Plans, and Risk and Resilience Assessments. This work has taught her a great deal about the operation of water districts and the planning that is involved in ensuring sufficient supply to meet demand. She also supports construction services for various types of projects. She draws inspiration from advancements in water treatment innovation and the idea that everyone can have access to reliable, clean water without harming the environment.
While at Cal Poly, Lizzie was involved in the Society of Environmental Engineers, CP Ski Club and played Club Water Polo. She is also grateful for the many hands-on projects integrated into the ENVE program that prepared her the most for the work she does as an environmental engineer.
May 11, 2021
---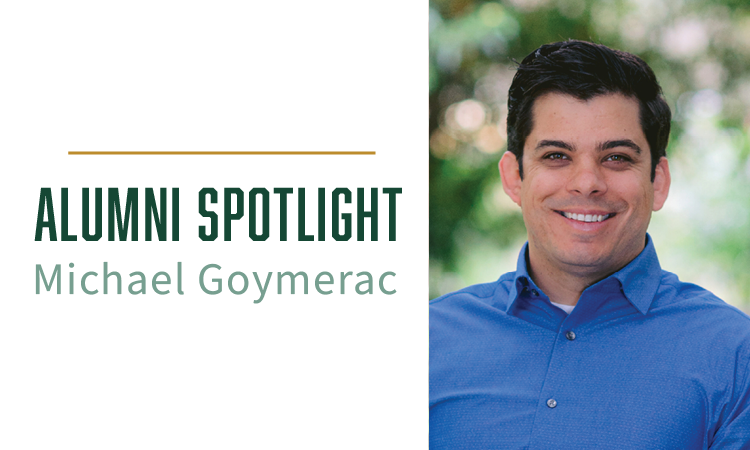 Michael Goymerac graduated from Cal Poly in 2012 with a BS in Environmental Engineering. He is currently pursuing his master's in Civil & Environmental Engineering at Cal Poly. He also works as an Associate Engineer at Water Systems Consulting (WSC) in San Luis Obispo.
Michael specializes in water distribution infrastructure, hydrology and groundwater treatment and delivery. He works with a variety of clients from local municipalities to private water companies and state institutions helping to overcome their most complex water conservation and water infrastructure needs. Michael's first design project at WSC was a 4-million-gallon tank design. Through this project, he learned from overcoming various challenges throughout the design process. The project was ultimately constructed to great success with a solid set of design documents.
Michael previously served federal, state, and local clients in the environmental remediation field where he has substantial experience in construction quality control oversight; off-haul, transportation and disposal of contaminated media; and a strong on-site safety presence. This combination of experience has allowed him to provide practical and efficient solutions particularly during implementation and construction phases.
While at Cal Poly, Michael was involved in the Society of Environmental Engineers and participated in Greek life (Phi Kappa Psi). He was also a WOW leader for two years. He appreciates his time within the Civil and Environmental Engineering department for arming him with both the technical skills as well as the soft skills necessary in a team-based environment. He advises current students to continue to develop those soft skills, as communication ends up playing a critical role in his professional work. Even years into his career, the ability to share knowledge and convey technical concepts and ideas effectively is something he still emphasizes.
May 6, 2021
---
Congratulations to our PSWC competition teams on their accomplishments at this year's virtual conference. The Pacific Southwest ASCE Student Conference is an event where teams from schools in the south-western region of the U.S. compete and pitch their presentations on various topics. After much hard work, all five of our teams placed, with Cal Poly placing third overall.
The Sustainability team, led by civil engineering sophomore Naoki Weldon, received second place. As a first-timer at the conference, Weldon shared that his experience was great. The team developed a plan to make the UCLA event center more sustainable by looking into different areas of impact, such as solid waste and carbon emissions. In the end, they came up with nine solutions to decrease environmental impact in a wide variety of ways.
Led by environmental engineering junior Lanie Carl, the Environmental Design team had a great time at the conference and didn't let the online setting stop them from enjoying the experience. Their project, the SLO Flow, developed a conceptual stormwater management design consisting of multi beneficial structural and non-structural practices for the Lincoln Heights community. These solutions resulted in better stormwater system management. The team saw their hard work pay off and ended up receiving second place in the Environmental Design competition.
The Transportation team, led by civil engineering senior Kezia Suwandhaputra placed second in their competition. They were tasked with creating a proposal and presentation to improve the Los Angeles International Airport (LAX) lot. This proposal included trip generation and distribution, design, cost and environmental impact analysis. Although the restrictions of COVID-19 altered the conference, Suwandhaputra said she loved working with the PSWC Transportation team. "I learned how to lead a team, manage my time and my teammates' time, and wing it."
The Technical Paper team finished third in their competition. The team's task was to answer a prompt about how the civil engineering profession should respond to a situation and what their ethical responsibilities were as civil engineers. At the conference, they had to do a five minute presentation followed by five minutes of questions from judges. Team captain Hannah Berenjfoorosh, a Civil Engineering senior, explained that it was nice to see the Cal Poly teams support each other at the events and banquet. Berenjfoorosh advises students in the Civil and Environmental Engineering department is to get involved with PSWC as she wishes she participated in earlier years.
The Surveying team, led by civil engineering junior Macey Ferron-Jones received third place in their competition where they constructed a topographic map of a small township in Eastern Ohio. As captain, Ferron-Jones met with the team and assigned tasks to complete with deadlines. She said she is so proud of the Surveying team and thankful for their hard work.
All of the teams worked so incredibly hard to compete at the conference and we are so proud of their achievements.
Apr 28, 2021
---
Joshua Core graduated from Cal Poly in 2015 with a BS in Civil Engineering. He then entered the graduate program at Lehigh University in Pennsylvania and graduated a year later with a Master of Engineering (M.ENG) degree in Structural Engineering. Shortly after, he accepted a job with Simpson Gumpertz & Heger (SGH) and has been there ever since.
Joshua works within SGH's Oakland office, which primarily specializes in Marine and Heavy Civil Engineering. Although this was not his exact educational background, his ability to adapt and learn quickly combined with a supportive team at SGH, has allowed to him to excel in the industry.
Not only has Joshua successfully passed the Practice of Engineering (PE) exam, but he has also contributed to the national and international study of marine engineering. In 2019, he presented at the PORTS conference with his SGH colleagues on their wharf preservation project. The PORTS conference is an internationally recognized event held every year, where hundreds of port, harbor, waterway, and marine professionals from around the globe share their knowledge and learn from the experiences of others. The presentations and papers cover a variety of topics dealing with issues currently facing the marine engineering community.
Looking back at his time at Cal Poly, Joshua recalls his memorable experiences of being a WOW leader and participating in Concrete Canoe. He considers Concrete Canoe to be one of the most challenging projects he has ever been involved in. However, all the time spent working on this project with his team, was well worth it. The team placed 2nd nationally and earned the title for "Innovation of the Year". Most of his team members remain good friends to this day.
In the future, Joshua looks forward to continuing to work for a great company, starting a family, contributing to Cal Poly through the Recent Graduates Alumni Committee (RGAC), and visiting SLO whenever possible!
Apr 17, 2021
---
Congratulations to the Cal Poly team of environmental engineering students for placing second at the 31st annual Waste-management Education Research Consortium (WERC) Environmental Design competition. Team members Sabrina Cegielski, Angela Ceja, Page Dionne, Teresa Godoy, Sara Henkemeyer, Anmol Kaur, Dulce Rodriguez Rivera, Joshua Schipper, Gracie Wong, and team leader Julia Broman competed at the virtual competition held from April 11-14.
WERC is a nation-wide environmental design competition where students take the lead as consulting engineers. Teams are tasked with solving real-world problems, administrated by industry partners and government agencies. The competition consists of a research report, oral presentation, and bench-scale demonstrations.. 
The Cal Poly team was tasked with designing a destruction technology for per- and polyfluoroalkyl substances (PFAS), a group of emerging contaminants. PFAS are known as the 'forever chemicals' due to their resistance to break down. Their prominence in a variety of products presents a problem as they contaminate drinking water.
Cal Poly environmental engineering students developed a two-step destruction system which utilized enzymes from fungi, followed by a process called electrochemical oxidation. The system operates to safely break down the contaminants achieving EPA's drinking water health advisory of below 70 ppt. 
ENVE Team
Apr 13, 2021
---
Kevin Williams graduated from Cal Poly in 2019 with a BS in Civil Engineering. After completing his degree, Kevin took some time to travel before starting a full-time position in the engineering field. He currently works as an Assistant Engineer for Quincy Engineering in Rancho Cordova, California.
For the past year and a half, Kevin has gained experience through a variety of projects with Quincy Engineering. His work mostly consists of roadway geometric design, utility coordination, drainage design, and report writing. He also prepares design plans and develops construction cost estimates for various project phases.
In his work, Kevin is grateful to have found a place where he can not only be involved in a variety of projects, but also belong to a collaborative and uniquely close-knit professional community. This collaborative environment extends beyond the internal office into his work with clients and project partners. He finds enjoyment in the teamwork required for large projects, some even throughout San Luis Obispo county. These local projects give him a chance to see familiar faces and recall memories from his time at Cal Poly such as intramural sports activities, Old West Cinnamon Rolls on a sunny Pismo morning, sports games after studying for 9 hours straight, and adventures up Prefumo Canyon.
Kevin has also had the opportunity to collaborate on some large-scale projects like designing the Atwater-Merced Expressway in Merced County. This work will aid in the transport of goods and local traffic in the area. Developing these meaningful professional relationships through projects like these is part of what makes his job so rewarding. In the future, Kevin looks forward to finishing the Principles and Practice of Engineering (PE) exam after having successfully passed the first portion, in addition to aiding in the design of future projects. 
Apr 5, 2021
---
Saturday, April 10 | Department General Info Sessions
Civil Engineering General Info Session
Learn about our department and the many opportunities that await you. Department head Dr. Charles Chadwell led the information session to introduce the Civil Engineering program at Cal Poly. Students receive chances to explore different areas of Civil Engineering, connect with our various corporate partners, and partake in a unique Senior Capstone project.
Environmental Engineering General Info Session
Learn about our department and the many opportunities that await you. Dr. Tracy Thatcher led the information session to discuss the Environmental Engineering program at Cal Poly. ENVE majors learn to create a more sustainable world in Learn By Doing focused classes, research opportunities, and student competitions.
Sunday, April 11 | Student Club Showcase
Student clubs and organizations are an integral part of our department curriculum and give our students unique, hands-on opportunities to become successful and resourceful professionals in their fields.
CalGeo/GeoWall (For students interested in Geotechnical Engineering)
Cal Poly Cal Geo (CPCG) is a student branch of the CalGeo professional organization. CPCG provides students with the professional and social resources to success in the geotechnical engineering industry. CPCG's project team, GeoWall, is an regional and national award-winning project team who competes to design and build a retaining wall using the least mass of reinforcement to hold back 600 pounds of backfill. Cal Poly Cal Geo and GeoWall are open to students of all skill levels and interests
Concrete Canoe (For students interested in Civil and Environmental Engineering)
The Cal Poly concrete canoe team gives students an opportunity to get hands-on construction experience, perform structural analysis, and utilize computer modeling programs. Every year, the team designs and fabricates a canoe made entirely out of concrete to be judged at the Regional and National competitions. Final scoring is based off the final product, design paper, paddling races, and oral presentations.
Engineers Without Borders (For students interested in Civil and Environmental Engineering)
Engineers Without Borders Cal Poly is a non-profit, student-driven organization established to support community-driven development programs worldwide through partnerships that design and implement sustainable engineering projects while cultivating transformative experiences that enrich global perspectives and create responsible leaders. EWB Cal Poly currently partners with communities in Fiji, Thailand, Nicaragua, Malawi, and the local SLO area.
ITE (For students interested in Transportation Engineering)
ITE is an organization dedicated to connecting and educating transportation professionals. The Cal Poly San Luis Obispo student chapter aims to connect students with peers and professionals, to explore the opportunities within the field, and to make a lasting and meaningful impact on the community and profession. They hold information sessions with firms and agencies, tour project sites, attend professional conferences, hold social events, coordinate professional development opportunities, volunteer with different organizations, and explore the infinite opportunities of transportation engineering and planning!
Rainworks (For students interested in Water Resources Engineering)
RainWorks is a multi-disciplinary club dedicated to educating students about water resources engineering. Their goal is to offer further opportunities for students to learn about all the disciplines of water resources, get involved in their local community, and form connections with professionals in the water industry. As participants of the annual EPA Campus RainWorks Challenge, Rainworks specializes in stormwater management techniques and low impact development. Their multidisciplinary project teams are a great way to exercise Cal Poly's Learn by Doing motto and are open to all ages and skill levels.
Society for Civil Engineers (For students interested in Civil Engineering)
SCE is the San Luis Obispo Student Chapter of the American Society of Civil Engineers. SCE is a club that focuses on promoting personal, professional, and scholastic development with academic and social events such as: general meetings, career fairs, mentorship pairings, elementary school volunteering, hiking, camping and so much more! SCE is also the home to two major project teams, Concrete Canoe and Steel Bridge, which provide members with opportunities for hands-on experiences.
Mar 31, 2021
---
Sofia Barale 
Professor Stefan Talke
Civil Engineering, Freshman
"I worked on digitizing bathymetry maps for Biscayne bay in Miami, Florida, as well as digitizing and analyzing depths of the main channel in Miami, Florida. The maps of the data that was digitized date back to the late 1800s. These maps were then analyzed to see how tides have changed in the area, and what might be causing these changes tide level. We navigated this in a virtual environment by doing weekly zoom meeting when our schedules allowed it and keeping in touch through email. Few difficulties were encountered, except a few schedule problems, where my academic schedule sometimes overlapped with meetings and I wasn't able to attend.
The most impactful and interesting thing that I learned was the sea level rise and rising tides are causing real problems for coastal cities. These problems include nuisance flooding, which is impactful to the lives of coastal residents. I also learned that rising tides in the coastal area may be caused by direct human activity."
Thomas Burt
Professor Anurag Pande 
Civil Engineering, Freshman
"The work I did included preliminary research about a left shoulder part time travel lane, to be trialed on 101 near Pismo, as well help edit citations for several other reports Dr. Pande was working on at the time. This worked fairly well in an online environment, as none of the research required me to be in a lab, and I was able to communicate effectively with Dr. Pande about any questions that rose up. The research process was challenging, as the proposal is a first of its kind in California so there were not many resources to draw from, and the ones I did find were quite technical.
I was able to learn a lot about good research techniques by working through this process on my own, and at the same time learn a lot about transportation engineering, specifically about how safety and efficiency are measured which I found really interesting. Transportation has always been something that interested me, and seeing how technical and precise the work around it can be has made me want to pursue it even more."
Anubhav Dawadi
Professor Shams Tanvir 
Civil Engineering, Sophomore
"I worked on research regarding wireless charging roads that have built in chargers that you vehicle could get charge from as it was above the road. We wanted to see the optimum way these could be implemented, and I was looking at past research where they have completed this successfully.  
I learned that research is a continuous and you must stay with it because results are often hard to see in the short term."
Gurtaj Khera
Professor Shams Tanvir
Civil Engineering, Freshman
"The topic I focused on for researching was figuring out designs on how we can accommodate autonomous vehicles onto roads and highways, with new infrastructure ideas. In other words, considering that the future of transportation is becoming more and more autonomous, I was responsible for researching different infrastructure plans for roads, highways, bridges, and other structures that are safe for vehicles and pedestrians to travel on in a sustainable way. Since most of our learning is virtual, it can be easy to become distracted and lose motivation to do your work but by being disciplined and using your time wisely, I was able to overcome this huge hurdle.  
Something impactful that I've learned from this experience is that with your research, you're predicting the future with the work you are researching you on, where sometime in the future, you're work might be implemented and used for the betterment of society."
William Francis Killmond
Professor Hani Alzraiee
Civil Engineering, Freshman
"The work I did for Dr. Alzraiee was focused on the creation of a cloud-based framework that would integrate GIS (Geographic information system) data with a 3D point cloud. The purpose of this framework would be to give decision makers at Departments of Transportation (DOTs) a better tool for analyzing transportation assets, such as bridges, roads, etc. and in that way allow them to make decisions regarding the management and maintenance of these assets based on more data and data that is more reliable than human observations. My actual research was mostly reading a number of papers on this topic so that I would have the background knowledge to write our research paper. My partner, Jessica, and I would read these papers and do various tasks towards wiring the paper (such as writing the introduction) and would meet virtually with Dr. Alzraiee once a week to discuss our progress and ask him any questions that came up during our research. 
I would say the most impactful thing I learned or noticed during this research was the way that technology can vastly improve the sustainability of civil engineering tasks. If DOTs were to adopt a framework like the one we are proposing, they would save time and money by using drones to collect data on transportation assets instead of human workers. Additionally, this framework would allow the most accurate decisions on the maintenance of these assets to be made, therefore guaranteeing that money would not be wasted replacing a bridge that doesn't need to be replaced, for example."
Philip N Le
Professor Stefan Talke
Civil Engineering, Freshman
"We used a program Professor Talke created to visualize the depths of certain inlets, which are the openings of rivers into larger bodies of water. We compare this with older historical data to find the effect humanity has had on these inlets. There was virtually no difference I could envision between doing this in a virtual or non-virtual environment, seeing as how this mostly electronic work; using a program and navigating different websites to find the data needed. Most difficulties that I encountered are those that come with coding projects of this kind, such as finding data that doesn't fit nicely together or having to edit parts of the code to accommodate said data. 
The most impactful things I learned were the uses of coding in civil engineering along with the experience of working on a team."
Jessica McArthur
Professor Hani Alzraiee 
Civil Engineering, Freshman
"I have been researching how to improve asset management for transportation-related structures. Specifically, I have been looking into using LiDAR and GID to make a 3D point cloud model that can be used to replicate both the current build and the effects of future events on the integrity of a structure. In a virtual environment, both my partner, Will Killmond, and I researched the topic independently, but we are collaborating on a paper, and we have weekly meetings with Professor Alzraiee. It was challenging to coordinate everything, since Will and I never met in person to work on the project, but there weren't any big problems to navigate because of the virtual environment.  
I learned how to look at problems from a different angle. I never knew much about transportation engineering before this, but my research is giving me a new perspective when approaching projects."
Adam Monroe
Professor Amro El Badawy
Civil Engineering, Freshman
"The research project that I worked on was using nanoparticles coated in PEI to determine if there is E-coli in water. The nanoparticles have to first be coated in PEI, then they can undergo a process where they change the color of the water if there are any bacteria in the water. The virtual environment was difficult because I wasn't able to be hands-on with the project, although it was difficult there was a lot I still learned. 
One of the most interesting and impactful things that I learned on this project was just the research process of having a hypothesis and being able to test it along with changing the hypothesis after finding new information."
Steven Sturkie
Professor Long Wang
Civil Engineering, Freshman
"I worked on examining data that simulated a structure or system failing. There were various models, and my partner and I had to use metrics to compare the models against each other. This could improve structural failure forecasting in the future by helping researches know which model is most accurate and effective in its predictions. The project was very technical, so there was a steep learning curve to understanding the terms and equations we used. 
I believe the most impactful thing I learned was continuing to gain experience in taking the initiative. In classes, the exact work you need to do is given to you. In research, things are more open-ended and you may not know what to do next."
Ryan Young Trainor
Professor Hani Alzraiee
Civil Engineering, Freshman
"I worked on a paper that investigated the application of terrestrial laser scanners(TLS) in steel bridge inspection. My participation was virtual, consisting of weekly zoom meetings and frequent communication with Luke Psomas, a second-year CE major who was also working on the paper. Navigating the virtual environment was definitely challenging, but I felt that I was well-supported by Dr. Alzraiee and Luke P. 
Mar 15, 2021
---
The past month has been exciting for Cal Poly's Chi Epsilon chapter with the initiation of new members and hosting the 33rd Pacific District Conference (PDC). 
Chi Epsilon is a national civil engineering honor society consisting of the top performing students with membership by invitation only. The Cal Poly chapter was founded in 1986 and is one of 15 Pacific District chapters. Students are selected based on academic performance as well as recognition of Chi Epsilon's four pillars: Scholarship, Character, Practicality, and Sociability. 
On March 5th, Cal Poly Chi Epsilon finished hosting the six day virtual PDC. The Chi Epsilon PDC is an annual leadership conference that aims to connect the chapter with industry, develop students' professionalism, and build bonds within the Chi Epsilon community. Each year, the host rotates between the various Chi Epsilon chapters within the Pacific District. This year, Cal Poly was selected as host Chi Epsilon vice president Meagan Chan as the PDC chair.
Cal Poly Chi Epsilon hosted 14 student chapters with a total of 200 registrants. Cal Poly's PDC planning committee worked diligently for over 6 months to organize this virtual conference through scheduling events, recruiting sponsors, and more. The conference included student competition, networking, and professional development events. Despite limitations of a  virtual environment, the PDC conference was a success and Cal Poly took home the title of provisional winner of the 33rd PDC and PDC Cup holder.
"I'm extremely grateful and proud of my committee members for helping make the event as successful as it was. Between implementing and executing the new chapter initiatives President Jacob Hamada and I instated, being involved in different student organizations, and planning this conference, they have remained diligent and resolute." - Meagan Chan, VP and PDC Chair 
PDC Committee Members
Additionally, as part of their yearly initiation, Chi Epsilon  initiated 20 new pledges along with a new faculty advisor, Dr. Long Wang the week prior. Dr. Wang is a new professor at Cal Poly and will help provide additional guidance to Chi Epsilon  in their efforts towards regrowth. This past year, Chi Epsilon has implemented strategic initiatives to improve their chapter and build a foundation for the success of future Chi Epsilon members. 
Newly Initiated Members
Pages
Related Content