GeoWall Competes in Nationals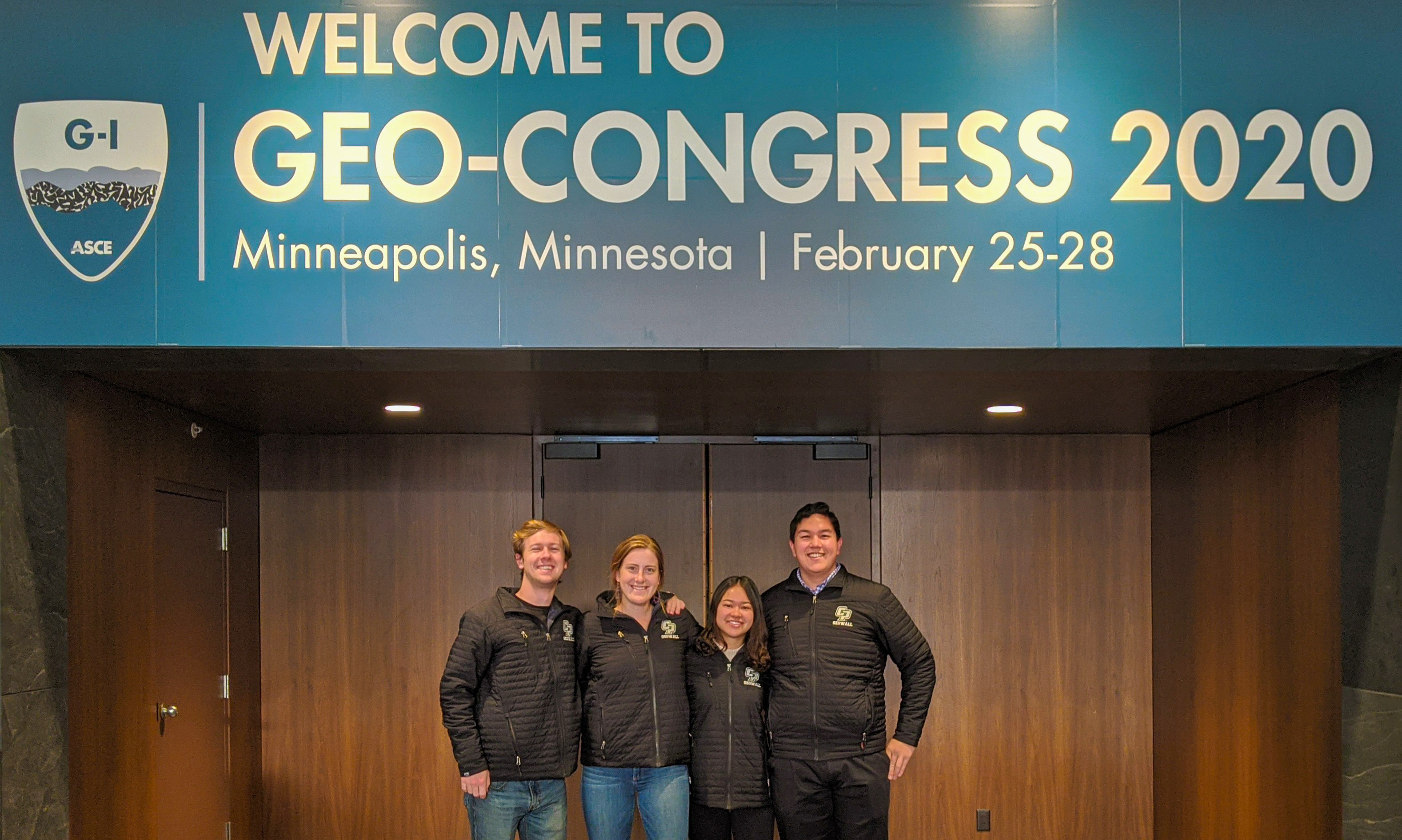 This year's GeoWall team competed in the 2020 GeoWall Nationals Competition, held at ASCE GeoCongress on February 26th, in Minneapolis, Minnesota. Cal Poly's team comprised of Project Manager Claire Anovick, and team members Ian Kitamura, Eza Gaigalas, and Matthew North.
"Acting as the 2019-2020 GeoWall Project Manager has been incredibly humbling and rewarding experience. This year we've developed stronger relationships with advisors and sponsors, navigated a new budgeting system, and improved our construction processes. Most importantly, the team fosters a collaborative and energetic group dynamic that makes project managing a breeze. It has been an honor to lead the team and be a voice to younger members who are excited to learn about our process and the high quality of geotechnical engineering skills we bring to GeoWall." Anovick stated.
The team was tasked to design and build a model mechanically stabilized earth (MSE) retaining wall using paper reinforcement taped to a poster board wall facing. After spending Fall Quarter testing backfill and reinforcement properties, designing the retaining wall, and writing a final design report, Cal Poly was accepted to compete at Nationals.
Poly's GeoWall took home 10th place overall, and enjoyed attending the 2020 GeoCongress. Looking forawrd, Anovick detailed how the team prepares for its upcoming Regionals: "GeoWall has a lot of work ahead of itself before the Regional Pacific Southwest Conference (PSWC) in April! Our team will be spending the next few weeks improving wall design and construction methods after seeing the top-tier competition at Nationals...Regardless of the work ahead of us, we look forward to competing along the rest of Cal Poly SLO's project teams and representing Cal Poly's geotechnical engineering program at PSWC." 
Related Content