Alumni Spotlight: Michael Goymerac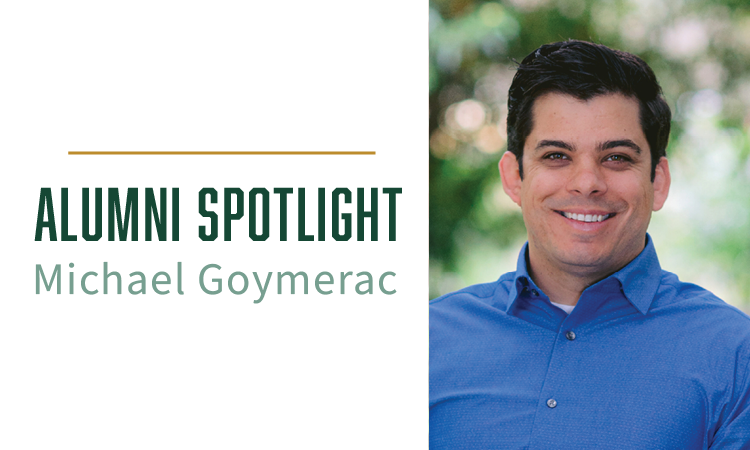 Michael Goymerac graduated from Cal Poly in 2012 with a BS in Environmental Engineering. He is currently pursuing his master's in Civil & Environmental Engineering at Cal Poly. He also works as an Associate Engineer at Water Systems Consulting (WSC) in San Luis Obispo.
Michael specializes in water distribution infrastructure, hydrology and groundwater treatment and delivery. He works with a variety of clients from local municipalities to private water companies and state institutions helping to overcome their most complex water conservation and water infrastructure needs. Michael's first design project at WSC was a 4-million-gallon tank design. Through this project, he learned from overcoming various challenges throughout the design process. The project was ultimately constructed to great success with a solid set of design documents.
Michael previously served federal, state, and local clients in the environmental remediation field where he has substantial experience in construction quality control oversight; off-haul, transportation and disposal of contaminated media; and a strong on-site safety presence. This combination of experience has allowed him to provide practical and efficient solutions particularly during implementation and construction phases.
While at Cal Poly, Michael was involved in the Society of Environmental Engineers and participated in Greek life (Phi Kappa Psi). He was also a WOW leader for two years. He appreciates his time within the Civil and Environmental Engineering department for arming him with both the technical skills as well as the soft skills necessary in a team-based environment. He advises current students to continue to develop those soft skills, as communication ends up playing a critical role in his professional work. Even years into his career, the ability to share knowledge and convey technical concepts and ideas effectively is something he still emphasizes.
Related Content